Last Updated on
Latin spices and blends are flavoursome and herby without any heat. There are many reasons why you should add them to your pantry. 
This post contains affiliate links at no cost to you. Your suppport to help me to continue this blog is much appreciated. Thank You. You can read the full disclosure here.

Flavoursome Latin Spices For Your Pantry
Few may already know some of the spices below but few may not.
Latin spices and herbs are perhaps one of the universal spice blends that can be used in many different ways and one of the easiest spice blends to use for cooking.
Some of the popular American spices such as blackening spice rubs, barbeque rubs etc are inspired by the spices used in Latin American cooking.
In my humble opinion, I feel Latin spices and blends are one of the best spice blends to introduce spices to young eaters or those who are less tolerant to spices or shall I say, conservative foodies!!
What is it Chimichurri – Chimichurri is a popular sauce for marinading or putting on top of grilled meats in Argentina.
The blend can be prepared fresh using fresh ingredients or bought in a dry pre-blended form.
With many different regional variations, the ingredients used to make the sauce may change.
Region – Argentina, Uruguay, Nicaragua, Colombia,Bolivia, Brazil, Ecuador and Mexico.
How does Chimichurri Taste –Spicy and tangy. Depending on the type of chilli used, few spice blends can also have a slight heat to it.
How to Use Chimichurri for cooking – Primarily used as a grilling sauce added to olive oil for meats, poultry and fish. You can also use it for making stuffing or to marinade chunky vegetables and grilling cheese.
Typical Ingredients Used to Make Chimichurri – paprika, garlic, red bell pepper, parsley, coarse salt, black pepper, cumin, sumac, oregano, dried Tomato, lemon rind.
What is it  Achiote – "Achiote" is another name for Annato seeds, a very popular Latin spice. It's a bright rusty -red spice that has a peppery aroma and a subtle flavour.
Achiote paste is made by grinding Annota seeds with olive oil. You can also buy achiote powder and add it with olive oil, vinegar, lemon juice to make into a paste.
Region –Mexico,  Caribbean, Central and South America
How  Does Achiote Taste- Earthy, mild and slightly nutty. It has a pleasant, sweetish aroma with peppery faint overtones mint.
How to Use Achiote for Cooking –  Used primarily to add colour and subtle flavour to food such as rice dishes, meat, fish and vegetables. Used for making and adding colour to stews, soups, tacos, dry rubs.
Typical Ingredients Used for Making Achiote – Annato seeds
What is it Fajita and Taco Seasoning – Although fajita and taco seasoning are two different types of seasoning to make different dishes, you can use one for the other if you wish as they both have similar ingredients.
While fajita seasoning has an additional souring agent, taco seasoning typically has more paprika and no additional citric acid.
Its a popular Latin spice mix belonging to Tex-Mex cuisine.
Region –Mexico and Texas – America
How Does Fajita and Taco Seasoning Taste- Mild, tangy and spicy with a slightly sweet aroma.
How to Use Fajita and Taco Seasoning for Cooking -Apart from making tacos, fajitas and burritos you can also use fajita seasoning for making spicy marinades, spreads, dips or sprinkle on chicken or beef. Use these spice blends to spruce up your soups, stews and curries.
Typical Ingredients Used to Make Fajita and Taco Seasoning – cumin powder, ancho chiles, arbol chiles, oregano, toasted coriander, black peppercorns
What is Sazon Seasoning – Sazon literally translates to 'seasoning'. It is a flavoured seasoning salt stable in many Latin kitchens. Used to spruce up dishes, this versatile spice mix is a pantry favourite to add flavour without heat.
Sazon seasoning is made by blending different types of herbs and spices along with salt.
An authentic Sazon seasoning will be bright red in colour which is due to the added achiote chilli powder.
Popular Region –Mexico, Spain
How Does Sazon Seasoning Taste- Mild and savoury with fresh herby notes without any heat
How to Use Sazon Seasoning for Cooking –   Use the seasoning during or on finished dishes as a seasoning. Use it to season steaks, fish, soups, stews. Can also be used to make dips, dry rubs and marinades. You can also sprinkle a few teaspoons on rice, couscous and pulses.
Typical Ingredients Used to Make  Sazon Seasoning – cumin powder, achiote powder, oregano, dried coriander leaves, black peppercorns, onion powder, garlic powder and salt.
Where to Buy Latin Spices and Blends?
These Latin spice blends can be easily blended at home.
However, for ease, you can buy the spices and blends from most supermarkets.
Apart from large supermarket that stores international spice range, you can buy these spices from a local ethnic store or online.
My recommended online spice stores for buying these spices is Raw Spice bar.
Their spices are freshly blended with swift efficient delivery services.
Another popular online spice store to buy freshly grounded spice mixes and spice from is Savoury Spice Shop.
They currently have Clearance Sale – Save up to 50% selected spices, products and seasonings from Savory Spice!
You can also get free weekly spice samples if you choose to buy from them.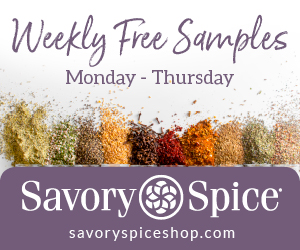 If you are interested in buying any of the spices, there is a direct link on the spice images above.
To Conclude
Latin spices are mostly aromatic, herby and non-feiry.
They use a lot of herbs and the popular achiote powder in their spice blends.
Some of the most used spices and herbs in Latin cuisine are cumin powder, oregano, ancho chillies, garlic powder and parsley.
If you wish to bring a flavourful aroma to your dishes without heat then these spices will surely add the zing to your meal.
Have you use any of the Spices above and tried the spices that you have enjoyed?
Would love to hear your experience.