5 Indian spice blends to have for Indian food lovers
5 Indian spice blends to have for Indian food lovers
If you love Indian food then keeping these 5 common Indian spice blends is all you will need to cook up a delicious Indian dish in Minutes. 
Spices to Indian food is what milk is to make cheese… that is inseparable and essential.
If you enjoy eating Indian food but are unsure about the different types of spices that go in Indian food or how to use spices for cooking Indian food then this list of 5 popular pre-blended Indian spice mix will simplify that for you.
Please not that the below list consists of the most popular ready made Indian spice mix that helps you to cook Indian food faster and make it easier without the need to add individual spices separately.
List of Best Indian Spice Blends To Have
What is Tandoori Masala
A popular spice blend belonging to the Northern part of the Indian Subcontinent.
Its a blend of many different spices best known for the vibrant red colour that comes from the addition of bright red chilli powder known as 'Kashmiri Mirch'.
"Tandoori" refers to a cooking process where food is made in a special clay oven. "Masala" means spices in Hindi.
So as the name suggests its a blend especially used for dishes that are cooked in a tandoor oven. However modern day cooking has made this spice blend extensively used in multiple ways.
Popular Region – India, Pakistan
How does Tandoori Masala Taste – Spicy hot and smoky. It is pungent and has a bittersweet taste.
How to use Tandoori Masala for cooking – Tandoori masala is popularly used to make marinades and rubs, it is also used to make veg and non-veg curries.
Use the spice blend to make BBQ or grilled chicken, fish, cheese and vegetables.
You can also use a teaspoon or two of tandoori masala powder to make Indian curry sauce.
Typical Ingredients in Tandoori Masala – Kashmiri chiles, turmeric, coriander, cumin, black peppercorns, green cardamom, ginger, cinnamon, ginger, garlic, nutmeg, cloves
What is Garam Masala
Garam Masala is a must-have spice blend in every Indian household.
It's a combination of many different spices, blended together to make a traditional Indian spice mix.
Every Indian region, state and household have their very own unique recipe. They can range from a mix of only 3 spices (like the Bengal Garam Masala powder) or up to 25 spices (typically the Northern Indian region).'Garam' is an Indian word for 'Hot' and 'Masala' means 'Spice'.
Popular Region – India
How does Garam Masala Taste – A strong and robust spice blend that is spicy and aromatic.
How to use Garam Masala for cooking – Garam Masala is used as a seasoning for many veg and non-veg curries.
It is used in a variety of Indian dishes and goes well with poultry, fish, Indian cheese and vegetable, lentils and legumes.
Can also be used to make soups, stews and stir-fries.
Typical Ingredients in Garam Masala powder – cumin powder, coriander powder, cardamom, cloves, cinnamon, nutmeg
"Chaat" essentially is the name given for spicy, hot, sweet, tangy Indian Street food.
It is a go-to spice blend to season many Indian snacks. It is essentially used as a seasoning similar to that of salt and pepper to liven up finished food.
Popular Region – India, Pakistan
How does Chaat Masala Taste-Tangy with a slight pungency that adds flavour to a dish.
How to use Chaat Masala for cooking – Chaat Masala is a typical Indian street food seasoning that you can use to pep up your boiled eggs, fries, scrambled eggs, dips, peanuts and many other snack items..
Used as a seasoning mainly for Indian snacks, street food, salads, bbq seasoning and fruits.
It can also be used for adding a tangy taste to yoghurt dips, drinks, soups and veg curries. Goes very well with vegetables and legumes.
This chaat masala recipe shows how to make homemade chaat masala at home easily.
Typical Ingredients in Chaat Masala – coriander powder, carom seeds powder, black salt, red chiles, dry mango powder, asafoetida, cumin, ginger, black peppercorns, dried mint
What is Madras Curry Powder
Amongst all the Indian mix spices 'Curry powder', probably takes the top most spot.
But did you know that it is not really an Indian seasoning mix. Read this post to learn about the origins of curry powder .
It is an earthy, spicy curry spice blend used to make Indian style curries.
Its a mix of different spices conveniently blended together making it easier for cooks to simply add a teaspoon to the base sauce giving it an authentic Indian curry taste.
It adds flavour and colour to a dish.
Popular Region – India, Sri -Lanka
How does Madras Curry Powder Taste – Pungent, spicy and hot.
How to use Madras Curry Powder for cooking – Curry powder can be used to make curries, soups, stews, stir-fries.
You can also use a tsp or two to make marinades, dry rubs, make curry flavoured dips and dipping oil or sauce.
Goes well with all food items such as veg, non – veg, legumes, lentils, rice dishes.
Many tend to confuse curry powder with Garam Masala powder. Know the difference between the two and use them correctly for cooking.
Typical Ingredients in Madras Curry Powder– turmeric, coriander seeds, cumin seeds, fenugreek seeds, cinnamon, green cardamom, black peppercorns, Kashmiri chillies, curry leaves
Panch phoran, literally translates to "five tempering spices".
It is a crunchy, salt free, blend of 5 whole spices very typical to Eastern Indian region.
It is used to temper vegetables and non-veg dishes in warm oil.
You can either crush the spices to release its oil before use or use them whole as the first step of cooking to flavour oil.
Toasting the whole spices before use adds to its flavour.
Popular Region – India, Bangladesh
How does Panch Phoran Taste – This is a non-spicy spice mix without any added chilli. It is aromatic and pungent and is used mostly to add flavour to a dish.
How to use Panch Phoran for cooking – Use panch phoran at the very first step of cooking to flavour oil before adding vegetables or meat.
It goes very well with any vegetable or legumes.
Can be used to make curries, stir-fries and as a pickling spice.
You can also crush the whole seeds and use is as a dry rub.
Typical Ingredients in Panch Phoran – black mustard seeds, fenugreek, nigella, cumin seeds, fennel seeds
Where to Buy Popular Indian Spice Blends
The above listed Indian spice blends can be bought from any Indian store near you.
If it is difficult to find an Indian store, then you can buy them easily online and get it delivered straight to your door.
My recommended stores to buy spices online sell freshly blended organic spices that are truly authentic to taste.
You can easily buy any of the above spices online. Discover the world of flavors at TheSpiceHouse.com.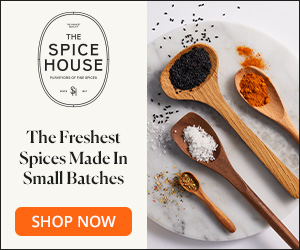 To Conclude
The listed spices are some of the most popularly used spice blends in Indian cuisine.
You may or may not have heard names of these Indian spice mixes but if you like to cook Indian food at home or simply want to experiment with flavours then these listed spices will not disappoint you.
Most of the spice blends will have a guide on how to use it for cooking at the back for reference making it easier for you to use.
If you have any questions or doubts about the blends then feel free to shoot me a message or leave a comment below.
Thankful for every click to share: