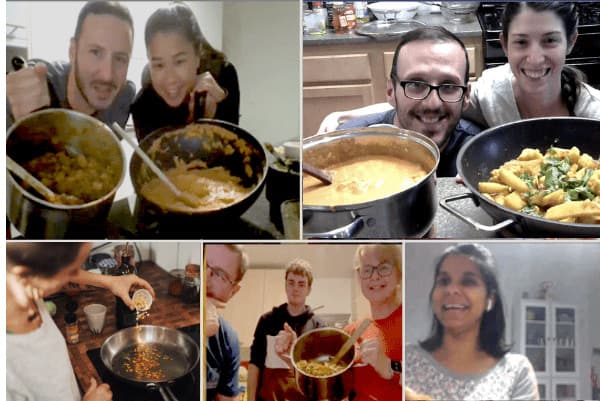 Fully Interactive and Fun Indian Cooking Classes
Make cooking Indian food easy, go above and beyond following Indian food recipes and learn to cook Indian food online by joining an Indian cooking course from the comfort of your home.
With the experience of giving over 500 classes these online cooking classes is undoubtedly an experience you will remember for ever. Watch this short video to see an Indian cooking class in action or read the reviews on my FB page here.
HOW TO JOIN AN ONLINE INDIAN COOKING CLASS?
STEP 1 Get A Tech – For the virtual Indian cooking class experience, all you need is a mobile phone or tablet or a laptop with a microphone, camera, and an internet connection.
STEP 2 Shop the List – We will send you a list of ingredients. You will need to buy them beforehand ready to cook Indian food online.

STEP 3 Get Cooking – Connect to a video call via the link. Once connected you will be guided throughout the class as we follow the Indian method of cooking and cook together. Ask as many questions to clear any doubts. The end result is homemade Indian food cooked by you for your family.
UPCOMING ONLINE INDIAN COOKING CLASSES
To see the list of all upcoming classes click on the link below and register to join any class of your choice.
Or use the contact form for a personalised online Indian cooking class.
WHO CAN JOIN AN ONLINE CLASS?
As the classes are virtual, anyone with an internet access and a devise can join regardless of your location.
Being a live session the timing for the classes will be matched to suit all where ever you are located in the world.
You can pay in any currency with your credit card through the secure stripe payment method without any extra charges to you.
It is that convenient, safe and easy.
BONUS STEP – Feed Another Family
With every step you take, you also get closer to feeding another hungry family in India.
60% of the proceeds earned from the bookings go towards the Feeding India project, a charity organisation dedicated to supporting underprivileged families in India.
You will be sent updates on how the donation has been used by the organisation via email.
You Eat Good And Do Good With Every Online Class
WHAT DO YOU GET?
When you join an online Indian Cooking Class you will benefit from the following:
♥A completely interactive session
♥ Ingredients adapted to fit your dietary needs
♥ An experienced personal Indian chef to show you how to cook Indian food the authentic way
♥ Learn to tackle the basics of Indian cooking and master the skill
♥Ask as many questions to clarify your doubts
♥Recorded video of the class and recipes for anytime reference.
COST, MENU AND TIME
The cost for a 2 hours cooking class is only CHF 35/$40 per device (Pay in any currency)
Dishes Learned and Cooked – 1 main, 1 side
Minimum Attendance – 2 people or devices
Time: Thursday or Friday afternoons – 4 pm – 6 pm (Central European Time)
Weekends – 4 pm – 6 pm (Central European Time)
PERSONALIZE AND SOCIALIZE
Got A Specific Need? Wish To Gift Someone a Class?
Use the contact form below to organise your own private group with family members or friends and have a virtual Indian dinner party.
Or order a gift voucher for an Online Indian Cooking Class.