Easy Mediterranean Spice Mix
Easy Mediterranean Spice Mix
Just the sound of the word 'Mediterranean' draws a picture of sea, sand and sangria!!
If you are anything like me, that is unsure of what makes the Mediterranean countries, then let us start from the beginning.
Mediterranean countries consist of all the countries around the Mediterranean sea.
You have France, Spain, Italy, Greece, and Portugal along the north; Turkey, Syria, Lebanon, and Israel on the east; and the African countries of Egypt, Libya, Algeria, Morocco, and Tunisia on the south.
Needless to say, you can well imagine the extent of the Mediterranean flavours and food.
Mediterranean style seasoning and spice blends are one that you will find easily in any supermarket.
Given the countries that make the region, there are a plethora of different types of Mediterranean spice blends to choose from.
Making a spice blend at home gives you the flexibility and control over the type and quantity of spice you wish to add.
This homemade Mediterranean spice mix is a family-friendly spice blend that can be put together in under 5 minutes and can be used in almost any dish to add flavour in minutes.
What Spices and Herbs are in Mediterranean Food?
Because the Mediterranean comprises of countries that expands far and wide, there are overlapping influences of different cuisines.
A typical Mediterranean diet is made with a variety of food.
They use fresh vegetables, dry fruits and nuts, seeds, whole grains, a variety of legumes and breads.
In terms of spices and herbs, listed below are the commonly used spices and herbs in Mediterranean food.
Allspice:
Aniseed or fennel seeds ( Learn about the difference

)

Basil
Bay Leaves
Caraway Seeds
Cardamom
Chilli peppers
Coriander leaves or Cilantro n
Cinnamon
Cloves
Ground Coriander
Ground Cumin
Garlic powder and fresh
Ginger powder and fresh
Juniper Berries
Mace
Marjoram
Mint
Nutmeg
Oregano
Paprika
Parsley
Rosemary
Saffron
Sage
Star Anise
Thyme
You can easily buy any of the above spices online from The Spice House online store.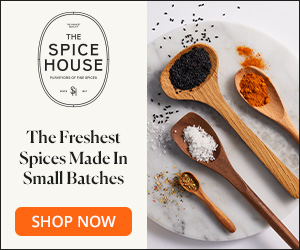 Health Benefits of Mediterranean Spice Blend
The spices used to make this spice mix help to build immunity and a healthy body other than flavour.
Oregano has more antioxidants present than apples, oranges, or blueberries, while rosemary is a good source of iron, calcium, and vitamin B-6.
Garlic has antiseptic and antioxidant properties. Capsaicin present in paprika helps reduce inflammation and is rich in iron and vitamin E.
How to Make Mediterranean Spice Mix
This ready in 5 minutes Mediterranean spice mix can be easily made at home using just 5 easily available healthy spices.
All you need to do is, bring the spices together in a bowl, mix, store and use.
This recipe will yield 35 gms of spice mix.
Spices Needed:
Rosemary – 2 tsp
Oregano – 2.5 tbsp
Garlic powder – 2 tsp
Paprika – 1.5 tsp
Cumin powder – 1.5 tsp
Method:
Measure out all the spices and add them to a bowl.
2. Mix the spices well together so that it is evenly mixed.
3. Transfer and store in an airtight container for up to 3 months.
How to Use Mediterranean Spice Mix for Cooking
This Mediterranean spice blend recipe is extremely versatile and can be used in making different types of dishes.
Add a teaspoon or two of the spice mix to soups, stews and curries.
Three teaspoons of this aromatic spice blend was all that was needed to lift the flavours of this low carb cauliflower soup

instantaneously.

The spice mix goes well with any type of meat, fish, poultry, egg, vegetables, legumes and whole grains.
Try this 9 ingredients Mediterranean prawn dish ready in 20 minutes.
Make roast vegetables or stir-fried veggies with the homemade spice blend.
Make it into a marinade with olive oil and apply on poultry, fish or meat.
Add to yoghurt, cream cheese or humous to flavour up, and prepare a dip.
Sprinkle on pasta sauce or rice.
Over to you
I hope the benefits, versatility and ease of cooking with this homemade Mediterranean spice blend has tempted you to try making few dishes with it.
The simplicity of this blend will surely amaze you.
Would love to hear your food stories!!
Thankful for every click to share: