This is a healthy easy and ready in under 20 minutes prawn recipe with garlic, onions, peppers and an instant Mediterranean spice to add fresh flavours.
TABLE OF CONTENTS
I love the ease and quickness of meals made with prawns.
This particular dish is one of the best prawn recipe for dinner.
If you do not happen to be allergic to prawns then they are one of the quickest proteins to cook with.
They are comparatively less tricky to cook than fish. Prawns or shrimps hold shape and do not flake or break, unlike fish.
While it also takes less time to cook compared to meat or poultry.
Ingredients For Making Mediterranean Prawn
Simple regular ingredients that you can find in any super market.
Fresh or Pantry items needed:
⇒1 small chopped onion
⇒ 1 chopped tomato
⇒3 pods of chopped garlic
⇒1 cup of chopped capsicum
⇒1 cup broth or 1/2 cup wine and 1/2 cup water
⇒1/2 cup cream
⇒Olive oil
⇒Salt to taste
Spices Needed 
⇒1 tbsp Mediterranean spice blend
Optional Ingredients 
⇒ For those who enjoy a spicy kick add chilli flakes to the dish.
⇒ If you like the freshness of coriander leaves or cilantro or parsley then add a handful at the end
Substitute Ingredients 
⇒You can substitute Mediterranean spice blend  with any Italian spice blend or Cajun seasoning ( get the recipe to make easy homemade Mediterranean spice blend  here)
⇒You can substitute prawns with chicken
How to make this dish vegetarian or vegan ?
⇒ For a vegetarian option , you can use an assortment of different vegetables such as carrots, zucchini, or chickpeas.
⇒ To make it vegan use the vegetables of your choice and add coconut milk instead of cream
Here is a snap short of some of the ingredients for you.
Prepare the 6 ingredients needed to make the prawn recipe.
How to Make Healthy Mediterranean Prawn Dish – Steps With Images
This easy Keto prawn dish is so easy . Just 9 ingredients and 6 cooking steps later you have a complete hot delicious meal in front of you.
STEP 1 
Saute the garlic, onions and peppers together in some olive oil for 3-5 minutes
STEP 2
Add chopped tomatoes to the sauteed peppers and continue to saute for another 3 minutes till the tomatoes become pulpy.
STEP 3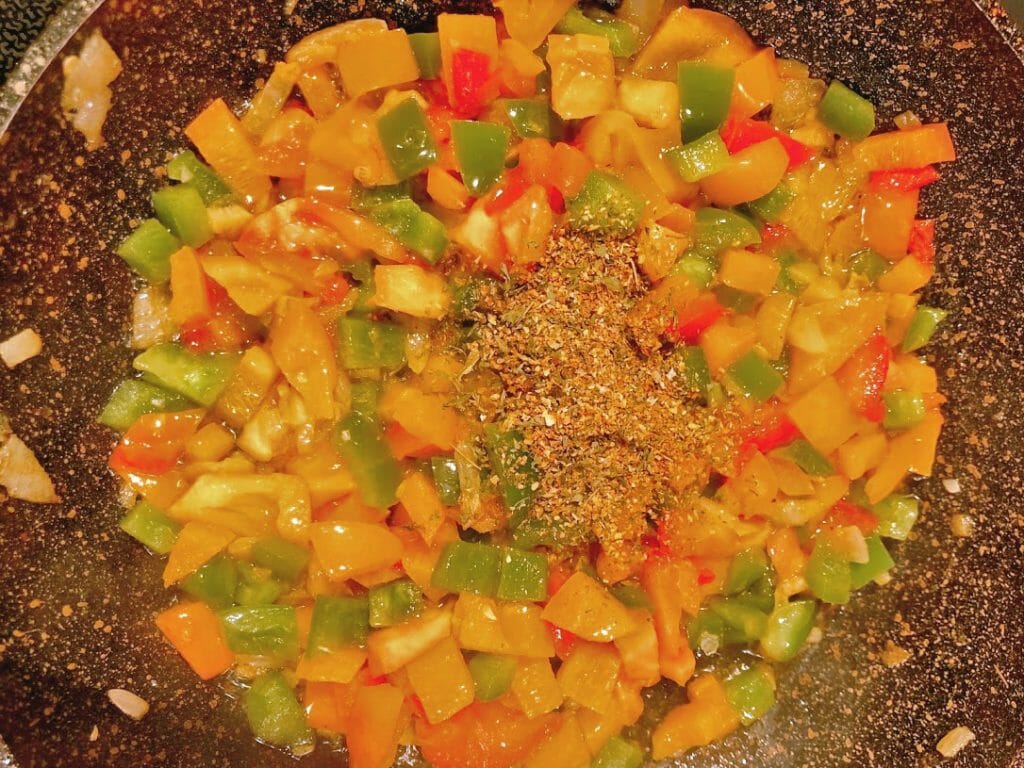 Next, add the Mediterranean spice blend and mix it well with the peppers.
STEP 4
Add the raw prawn or shrimp to the pan and saute for 3-5 minutes until it changes colour.
STEP 5
Add broth/wine or a mix of both to the prawns and bring to boil. Lastly, stir in the cream, check for doneness and remove from heat to serve.
Cooking Tips and Notes For The Recipe
I made this prawn recipe using freshly blended Meditteranean spice mix at home.  I used 5 simple and healthy spices and herbs to make this blend.  The step-wise guide on how to make this easy Meditteranean Spice Mix can be found here.

You can make this easy shrimp recipe using any Meditteranean or even taco seasoning.

You can use raw/cooked or frozen prawns, shrimp or tiger prawns to make this recipe

If using cooked prawns then cook it no more than 3-5 minutes.

You can use any coloured peppers that you have, I used a mix of peppers to make the dish more colourful.

I made the recipe to copy a drunken prawn recipe and used white wine and broth to make the sauce. You can use just broth if you wish.

If you do not have pre-made broth use a stock cube to make the broth. 1/2 a stock cube will do the trick.

If you are using wine I advise you to add a little sugar to cut through the bitter sourness of the gravy.

Make sure you have enough liquid or gravy in the dish. It makes this prawn dish taste so much better and easy to eat with any side.

Add chilli flakes to the dish for an extra spicy kick.
Can You Make The Dish With Tiger Prawns or Shrimps?
Although I call this recipe a prawn recipe, this dish can be made with tiger prawns or shrimps.
I used raw tiger prawns for making this dish, but you can also use cooked tiger prawns or any type of prawns.
This prawn dish can be made with frozen cooked prawns, fresh raw prawns or frozen raw prawns.
Of course fresh prawns have better sweeter taste compared to frozen prawns but the addition of fresh spice blend and peppers are the key flavour enhancers of this dish so the type of prawns used is less important.
Using fresh prawns or cooked tiger prawns makes cooking this recipe even faster as fresh prawns only takes 5-7 minutes to cook.
Tips To Cook Prawns
Prawns can be cooked in different ways.
But before cooking I recommend removing the intestinal tract which looks like a vein running down the back of the prawns.
This is called de-veining the prawns.
De-veining is however not possible if you choose to keep the shell intact.
Grilling, tempura frying, pan-frying, boiling or poaching are some of the common ways to cook prawns.
For this recipe, I have used de-veined shell and headless fresh prawns.
I first flash-fried the prawns in the pan on high heat for about a minute or two maximum with the vegetables and onions before simmering it in the liquid sauce.
Cooking fresh prawns takes about 5 minutes.
How To Know If Prawns are Cooked?
It can be tricky to know is prawns are cooked well.
Uncooked prawns can lead to food poisoning while overcooked prawns become rubbery and tough.
I use the following tips to ensure if prawns have cooked properly.
Watch for the shape of the Prawns.
Raw prawns tend to be curly but during the cooking process, it changes the shape to become a C.
'C' shaped prawns is a good indication that the prawns are cooked.
If it changes to 'O' then the prawns are overcooked.
Look out for the colour
Raw prawns are grey with opaque skin.
During cooking the outer skin changes to light pink while the inside should be slightly white in colour when cooked.
If the inside is bright white then there is a likelihood that the prawns are overcooked.
Taste to be sure
The slight white or C- shaped cooked prawns can be a bit tricky to judge.
I sometimes follow the home cook granny way to check the doneness of prawns which is cutting a part of it through and tasting it to be 100% sure  🙂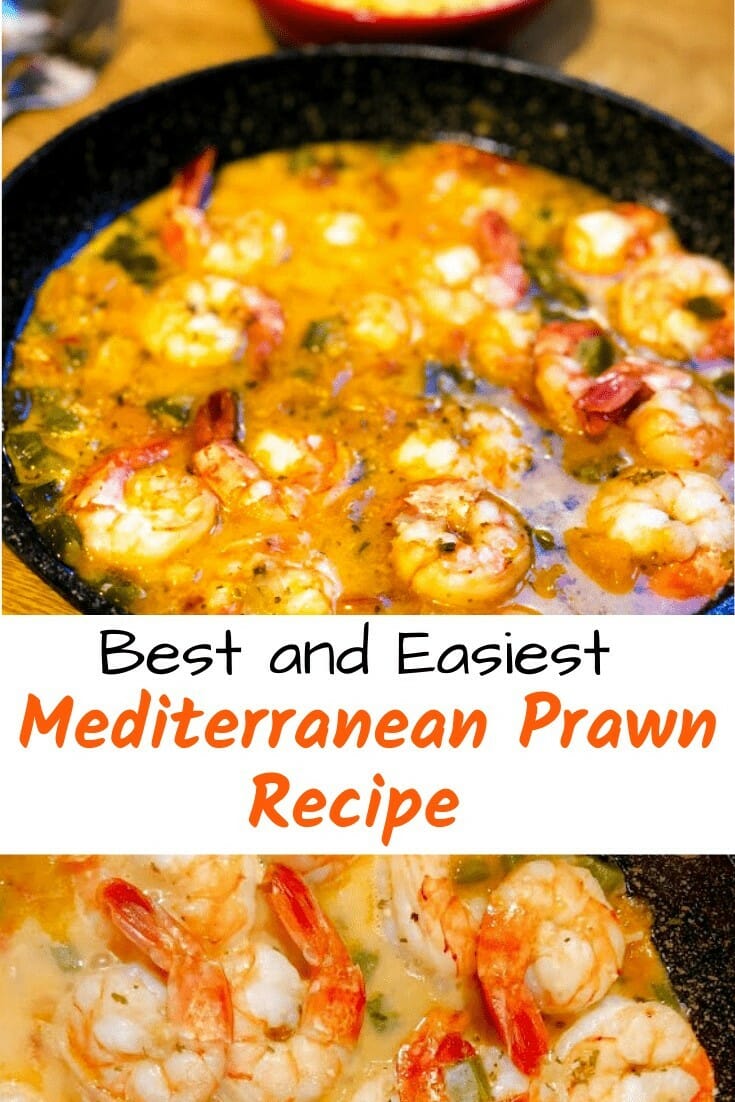 How To Cook Prawns From Frozen?
If using frozen prawns I suggest thawing it before you cook since this recipe involves flash-frying the prawns first.
It also helps to pat dry prawns before adding them to the pan.
This ensures that the prawns do not have any excess water.
If you have forgotten to thaw frozen prawns, which I think most of do given the other things to think about, thawing frozen prawns is super easy and quick.
Simply put frozen prawns in a bowl of hot water, and rinse it through 2 times. After the 2nd rinse leave the prawns in for few minutes upto 10-20 minutes to completely thaw.
Best Side Dish With This Prawns Recipe
For this particular prawn recipe, I served it with plain buttered couscous.
You can serve this dish with rice, bread, polenta  or mashed potatoes
For a non-carb or a complete keto diet consider serving it with roasted vegetables like broccoli, cauliflower or mushrooms.
Other non- carb options are cauliflower rice, zucchini noodles or mashed butternut squash.
Is This Prawn Recipe For Toddlers?
This prawn recipe is perfect for the entire family including toddlers and makes a healthy shrimp dish for dinner.
If you are unsure of adding wine to the dish then skip adding it.
If you wish to make this into a spicy prawn recipe then simply remove enough for the kids or non-spicy eaters and add chilli flakes to the remaining portion.
This dish is a perfect mid-week healthy prawn recipe that can be made in under 20 minutes.
 Recipe Card