The best way to describe this roasted Eggplant or Indian aubergine curry dish, is that it is the Indian vegan version of Baba ganuosh.
Eggplant bharta is a Punjabi bharta recipe where the eggplant also known as aubergine or brinjal in other parts of the world is fire roasted and sauteed with fresh aromatics and only 3 spices.
The Indian name of this dish is Biangan ka Bharta which literally translates to 'eggplant mash'!!
If you love Indian food then this eggplant Indian style recipe is a must try .
It is amazingly easy to make and the spices used are very basic which most of you should have in your kitchen cupboard.
Ingredients for Making Eggplant Dish Indian Style
I highly recommend making this easy baingan bharta recipe especially if you are beginner to Indian cooking.
It uses limited ingredients and is fairly straightforward to cook without much waiting time.
Read the cooking notes and FAQ section below for more tips.
The amount listed is enough for making eggplant bharta for 3-4 adults.
Here is what you will need:
FRESH AND PANTRY ITEMS
⇒ Eggplant/Aubergine
⇒ Onions
⇒ Tomatoes
⇒ Garlic
⇒ Peas
⇒ Green Chillies
⇒ Fresh coriander leaves or Cilantro
⇒ Lemon juice
⇒ Mustard Oil (or any unrefined oil)- 3 tbsp
⇒ Salt to taste
SPICES
⇒ Cumin seeds
⇒Turmeric powder
⇒ Chilli powder
SUBSTITUTE INGREDIENTS
⇒ Substitute for cumin seeds – ground cumin powder
⇒ Substitute for green chilles – use fresh red birds eye chillies or chilli powder instead
⇒ Substitute for tomatoes – You can omit tomatoes from the recipe and use more lemon juice for tanginess instead.
⇒ Substitute for peas – Peas are optional, you can choose to add them for colour and texture or substitute it with potatoes.
OPTIONAL INGREDIENTS
⇒ You can use either chilli powder or fresh chillies if you do not wish to add too much heat.
⇒ Green peas add colour and texture to the dish, you can omit adding them if you wish.
⇒ You can add kasuri Methi (Dry fenugreek leaves) if you wish for added flavour.
How to Make Baingan Ka Bharta – Method with images
Here is a step by step recipe of making Indian style roasted eggplant mash at home for your to follow.
STEP 1 – Prepare the Eggplant
Wash and pat dry the eggplant. Then generously smear oil over the eggplant. Make deep slits and insert 2-4 whole garlic inside the aubergine as shown in the image below.
Now cut the aubergine from bottom down without cutting it into half.
STEP 2 – Roast or Grill the Eggplant in Oven
Heat the grill to 180 degrees and place the eggplant under the grill/broiler.
Roast it for about 30 -40 minutes turning it from one side to the other from time to time for an even roast.
STEP 3 – Mash the eggplant
Once the eggplants are roasted, remove the skin from the flesh.
Roughly chop them into big chunks. You can choose to keep the skin on or discard the skin of the aubergine for making this dish.
STEP 4 – Make Baigan Ka Bharta
Heat oil in a pan and lightly sizzle cumin seeds and garlic together for 40 – 50 seconds.
STEP 5
Saute onions until translucent about 5 minutes.
STEP 6
Add the tomatoes and grated ginger and continue to cook for another 5 minutes until you start seeing the oil coming out of the edges of the pan. Then add chilli powder and turmeric powder and saute for another 3 minutes.
STEP 7
If you wish to use peas, it is time to add them to the tomatoes now and cook until its almost done.
STEP 8
Now add the chopped eggplant and cover it well with the onion tomatoes masala. Add salt to taste and continue to cook on medium heat until it is well mixed with the tomatoes and onions.
STEP 9
Finally add a generous helping of fresh coriander/cilantro leaves and mix well.
STEP 10
Serve Indian style mashed eggplant with Indian flat bread called roti, parantha or any bread of your choice.
Cooking Notes and FAQ's
Here are few cooking notes that will help you to make this recipe at home.
Feel free to drop a comment below or message me if you have any other queries on how to cook brinjal bharta.
COOKING TIPS
You can use frozen or fresh peas to add some bulk and colour to the dish.

For extra heat add chopped fresh green chillies to the dish while cooking tomatoes.
OTHER TIPS
Choosing the right eggplant – You need nice fleshy round large eggplant/aubergine to make this dish. Depending on the serving size at least 2 large aubergines are good to serve 3 adult portions.The skin should ideally be shiny and the eggplant light to hold. Lighter eggplants have less or very tiny seeds.
Dry The Eggplant –

It is important to pat dry the egg plant before you smear it with oil to prevent the oil from spluttering and avoid any inquiry.

Grilling/broilling eggplant in oven – Place a foil under the griller/broiler to prevent extra cleaning work for you. Water from the eggplant will drip as it gets roasted so better be prepared.
Roasted Eggplant with skin or without– It is upto you if you like the skin on roasted aubergine on or off. Traditional recipe requires the skin to be taken off but I keep some of it for texture and bite. Let the eggplant cool before removing skin.
Spices and Chillies – The level of heat used is a personal choice, you can add as little or more chillies as per your heat threshold. This eggplant bharta recipe does not require mnay spices, if you wish you can add additional spices such as ground cumin or ground coriander.
Type of Oil – The recipe tastes best if made in mustard oil but any refined oil such as sunflower oil, groundnut oil or vegetable oil can be used.
How to roast or grill eggplant in BBQ for eggplant bharta ?
The traditional Indian method of making homemade Baingan ka bharta is roasting it on open flame.
If you happen to have charcoal grill then that just takes the taste a notch up because of the infused smokiness.
To grill the eggplants on either open flame or charcoal grill, follow the same roasting method as above on a medium heat.
If using charcoal or fire then place a grill mesh on top of the charcoal or gas fire to prevent the skin from burning too fast. You can put it directly on the coals or fire once cooked for heightened smokiness.
How to add smoky flavour to oven roasted eggplant?
For those who have induction cookers, it is hard to roast eggplants and replicate the smoky flavour that you would get when roasting them on open flame or charcoal grill.
You can add smokiness by heating a charcoal, and placing it in the container with the mashed eggplant drizzle few drop of oil on the hot charcoal and cover the container to infuse the smoke into the mashed aubergine.
How to feed eggplant bharta to children?
Eggplant or aubergine is one vegetable that children don't take to very easily. It maybe the squishy, mushy texture or the seeds or a different type of taste altogether that does not go down well especially if they know what it is.
Add some extra peas to this roasted Indian eggplant recipe so that they have more peas than the mashed up aubergine. The peas could make the dish appealing to some fussy eaters.
What is the best technique to roast the eggplant?
Before you start roasting the eggplant for making baigan ka bharta make sure you pat dry the eggplant with a kitchen towel before smearing it with oil.

Do not cut the stem of the aubergine. Keep it intact. It will help with turning it while roasting

Cut the aubergine from bottom without cutting it into two halves. This will help cook the aubergine faster.

Place a tray with aluminium oil under the grill rack to catch all the drips.
Are there any alternative method to roast the eggplant?
If you have a gas burner I highly suggest to roast the aubergine on flame. It tastes better than the oven.

The traditional way of roasting eggplant for making Indian style eggplant bharta is to roast it on charcoal. It lends a beautiful smoky flavour.
Traditional Baingan Ka Bharta Recipe
The one memory that this dish takes me back to, is the smoky flavour of burnt eggplant skin which gave this dish a completely different taste.
Every region in India has its own version of Baigan Bharta. This particular recipe is more North Indian or Punjabi style bharta recipe.
In India, you cook on flame rather than the modern day energy saving halogen/induction cookers. So getting that burnt (in an edible way) smell was not all that difficult.
The challenge is to replicate that aroma in an oven.
There are ways on how to roast brinjal in oven for bharta which I have already shared in this recipe.
However, the only thing I can say is that the next time you put the BBQ on, scoop around the fridge and get your eggplant out and toss it on the BBQ at the end. You will not regret it!
Where to buy Spices online?
Not sure if you can get all the spices listed in the recipe.
Buying all kinds of fresh spices cant get easier than buying them through online store at The Spice House and get them delivered to you directly.
For
Click here to discover the world of flavors at TheSpiceHouse.com.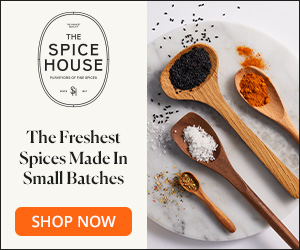 Join an Online Indian Cooking Class
Would you like to learn the basics of using spices that make Indian cooking easy and lots of fun. Register for a fully interactive online cooking session and cook along with me to make and Indian meal from scratch.