Perhaps one of the most popular vegetarian Indian dish paneer and spinach curry is liked by all ages especially those who prefer milder Indian dishes.
Palak in Hindi means spinach and Paneer is the Indian cottage cheese different to the cottage cheese you get in the super markets outside of India.
There are many different versions to make paneer with spinach across the subcontinent. All versions can be considered an authentic palak paneer recipe as there is no right or wrong way of making this dish.
This delicious smooth easy palak paneer dish is made with fresh spinach leaves, paneer, onions, tomatoes, and regular whole spices readily available.
Ingredients for Homemade Palak Paneer
You will find most of the ingredients listed in large super markets.
If you do not get paneer then you may have to go to an ethnic store or read below for suitable alternatives and substitutes.
Here is a image of some of the ingredients:
FRESH INGREDIENTS :
⇒Spinach ( frozen or fresh)
⇒ Onions
⇒ Fresh tomatoes or tinned tomatoes
⇒Green chillies
⇒Ginger
⇒ Garlic
⇒ Butter
⇒ Cream
SPICES USED
⇒ cumin seeds
⇒ Brown cardamom ( How is brown cardamom different to green, read here)
⇒ Green cardamom ( read about the uses of green cardamon here)
⇒ Cinnamon stick
⇒ Bay leaves
⇒Chilli powder (optional)
⇒ Turmeric powder (optional)
PANTRY INGREDIENTS :
⇒ Sunflower Oil / ghee
⇒Salt to taste
SUBSTITUTES AND OPTIONAL INGREDIENTS
⇒ Substitute for paneer – Read FAQ note below for suggestions and options
⇒ Substitute for ghee – Use half butter and half oil instead
⇒ Substitute for brown cardamom – Omit from recipe if you are unable to find it.
How to Make Palak Paneer – Step wise method with Images
Below is the step wise process to make paneer with spinach at home.
The recipe involves different components to be cooked separately and brought together.
STEP 1 – BOIL THE SPINACH
Put spinach, chopped onions, green chillies, chopped ginger, bay leaves and brown cardamom in a large boiling pot , with a little water and salt and bring to boil.
STEP 2 – MAKE SPINACH PUREE
When the spinach is cooked and the onions soft make a puree of the spinach with a hand blender or regular blender and set aside.
STEP 3 – FRY GARLIC
Heat butter or oil in a pan. Saute chopped garlic until slightly golden brown in colour and set aside.
STEP 4 – MAKE THE BASE SAUCE
In the same pan with butter, add cumin seeds, green cardamom and remaining brown cardamon and saute for few seconds.
Add the chopped tomatoes, chilli powder and turmeric with a little salt and cook until pulpy and you see the oil leaving the sides.
Add the tomato masala base to the pureed spinach and mix well. Your spinach base sauce for palak paneer is ready .
STEP 5 – ADD PANEER TO SPINACH
Add chopped paneer cubes to the spinach puree.
STEP 6
Add cream to spinach and mix well.
STEP 7
Add the fried garlic to the spinach sauce.
STEP 8
Finally squeeze lemon juice and your homemade simple palak paneer is ready.
STEP 9
Serve spinach paneer with any Indian flat bread or rice.
Recipe Notes and FAQ's
Defrost frozen spinach to room temperature before boiling.

To retain the bright green colour of the spinach add three to four ice cubes to the pot once the spinach is boiled.

If you do not like heat then use only one type of chilli. Use either whole green chillies or red chilli powder.

You can choose to lightly fry paneer pieces in oil if you wish. This is an optional step .
Why is this an easy and quick spinach paneer recipe?
One of the reasons Indian dishes take time to cook is that you need to cook the aromates well.
This cooking process is explained in the post here on how to cook Indian food the authentic way.
I call this the best palak paneer recipe because by skipping sauteing onions and boiling spinach while you cook the masala base cuts short the cooking time.
More time saving Indian cooking tips are shared on this post here.
I also skip frying the paneer which further reduces a step.
How to make paneer soft in palak paneer?
Paneer available outside the subcontinent tend to be a bit harder. To make it soft cut the paneer in cubes and soak it in hot salted water for at least 30 minutes before adding it to the dish and simmer on low heat for it to absord the favours.
Alternatively flash fry until light golden in colour before adding to the dish.
What is the best substitute for paneer?
The best dairy substitute for paneer are feta cheese, halumi cheese, turkish beyaz peynir or the regular cottage cheese you get in the market.
How to make a vegan palak paneer?
The closest vegan substitute for paneer is tofu. You can make it with spinach and paneer with tofu or use chunky cut vegetables such as cauliflower, carrots and peas instead.
Replace cream with thick coconut or almond milk or cream .
Can you freeze Palak Paneer?
Yes, you can easily freeze palak paneer for upto 3 months.
How to prevent spinach from becoming bitter?
Spinach can be a bit funny at times and can become bitter if not cooked properly or depending on the spinach leave.
This simple palak paneer recipe reduces the likelihood of the spinach turning bitter as it is boiled instead of sauteed in oil.
Other tips to reduce bitterness from spinach is to add citrus ingredient such as lemon juice or vinegar or dairy products like yogurt and cream.
What is the difference between Saag Paneer and Palak Paneer?
'Saag' in Hindi means leafy green vegetables. This could mean mustard greens, dill leaves, Swiss chard etc.
Saag paneer is a dish made with a mix of leafy greens while Palak paneer uses only spinach.
Where to buy Spices online?
Not sure if you can get all the spices listed in the recipe.
Buying all kinds of fresh spices cant get easier than buying them through online store at The Spice House and get them delivered to you directly.
For
Click here to discover the world of flavors at TheSpiceHouse.com.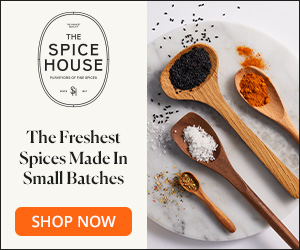 What To Cook Along?
If you wish to bring Indian flavours to your home and and learn the fundamentals of cooking with spices, then join me for a fully interactive online Indian cooking class .
Each class comes with a promise to demystify and simplify spices, teach you fail proof cooking pattern that makes cooking Indian food at home easy.