Aromatic, versatile and an easy to make spice blend, Panch phoran also known as Bengali or Indian 5 spice, is a common Indian spice that comes to the rescue whenever you are looking for a flavour zest. This is an extremely easy recipe to make Panch Phoran masala at home.
If you wonder what is panch phoran and why have you not heard of this spice before, it may be because it is essentially a cultural spice popular in the Bengali speaking Eastern region of India and Bangladesh, hence the name Bengali spice or as said in Bengali 'Paanch Phoron'.
For more information on the cooking uses and benefits of panch phoron, I suggest reading the below linked post which explains this is detail.
Ingredients Used For Making Panch Phoran Masala
Making homemade panch phoron is extremely easy. It can be made with regular spices.
However there are two separate spices depending on the recipe you follow that may be used in a panch phoran spice blend.
These spices are a choice between nigella seeds or black seeds or another cultural spice known as radhuni.
Radhuni, is difficult to find outside of India so this panch phoran recipe has been made using nigella seeds.
Here are the 5 spices in Panch phoran:
Step By Step Method
Although you will find panch phoron masala in most Indian grocery stores, it is incredibly easy to make this at home with regular basic spices which you may already have in your spice pantry.
STEP 1
Measure out each spice in equal quantities.
STEP 2
Mix the spices in a bowl together and your homemade panch phoron spice blend in ready.
Recipe Video
Cooking Tips & FAQ's
Below are few notes to keep in mind:
Use fresh whole seed spices for an aromatic panch phoron spice blend. Stale out of date spices do little good to the blend.
Use equal quantities of each spice for making a balanced blend.
You can increase the amount of one blend to another if you wish however avoid to use too much of one spice.
Do you need to roast the whole spices before making panch phoron mix?
No, you do not need to roast the spices. The mix is made with raw spices which is what makes this Indian five spice blend so easy to make at home.
Can I change the ratio of spices used in the recipe?
Yes, you can increase the proportion of one or 2 spices if you wish in the recipe. However keep in mind not to overdo on one spice especially fenugreek seeds as it could make the blend bitter as fenugreek is more on the bitter taste side.
I cannot find brown mustard seeds, can I use yellow mustard seeds?
Yes, although brown mustard seeds is the popular spice option for making an authentic Bengali 5 spice blend you can use yellow mustard seeds instead. You can also use a mix of both yellow and brown mustard seeds if you have them both. Just use 50% of each type.
What are the uses of Panch Phoran masala ?
Being a versatile and aromatic spice blend, you can use panch phoron in multiple ways. Temper a tsp of panch phoran masala in warm oil to stir fried vegetables or make currys, soups or stews. You can also roughly grind them to make spice rub, salad dressing etc. More tips on cooking with panch phoran in this post here.
How to store Panch phoran masala ?
Store Indian five spice blend in an airtight container away from heat and direct light.
How long does this Bengali 5 spice blend last for?
If you store the blend well, it will keep fresh for upto 6 months.
Where To Buy Spices From?
For US Residents
Shop a range of fresh spice, herbs and blends delivered straight to your doorstep from the Spice House.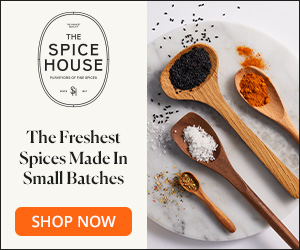 For Europe Residents
For those living in Europe Gewuerzland has the largest selection of fresh spices and herbs that can be ordered online.