Easy to make Indian spicy prawns masala is made with red hot whole chillies and freshly grounded spices. Tangy, hot and spicy this one really tickles your sense of flavour.
I am really proud of this easy prawn recipe made completely using my gut and flavour instinct.
Prawns or fish are proteins that cook fast, is healthy and one of best proteins to eat if on a diet.
Made with whole spices blended at home, you do need a decent blender to make this Indian prawns dish.
Ingredients Needed To Make Masala Prawns
This is a hot and spicy prawn dish which means there are few spices you will need.
Non of the spices are difficult to find and if you struggle I recommend buying them online from this fabulous one stop shop for all your spices need.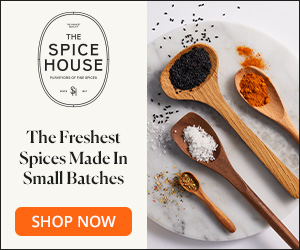 Here is what you need:
Fresh or Pantry Ingredients 
⇒500 gms, prawns
⇒1, onion diced into small pieces
⇒ 3 tbsp, yogurt
⇒1, chopped tomato
⇒15 curry leaves
⇒6 pods garlic
⇒3 tbsp sunflower oil
Spices Needed
⇒3 to 4 whole red chillies (Fresh or dry)
⇒1 tsp pepper corns
⇒2 tsp coriander seeds
⇒1 tsp cumin seeds
⇒1 tsp fenugreek seeds
⇒1 tsp mustard seeds
Substitute or Optional Ingredients 
⇒ You can substitute prawns with shrimps and make an spicy shrimp dish
⇒Substitute fresh curry leaves with dry curry leaves
⇒Substitute fenugreek seeds with celery seeds (read here to know what is fenugreek seeds and the best substitutes)
⇒You can use yellow or black mustard seeds for this recipe
Prawns Masala Recipe Step By Step Instructions With Images
Follow this really simple step to step cooking process to make this dish at home.
STEP 1 
Make the masala paste.
In a pan dry roast garlic pods, whole red chillies, cumin seeds, coriander seeds, mustard seeds, fenugreek seeds and pepper corns until it changes in colour and is fragrant.
Grind into a thick paste with some water and set aside
STEP 2 
Heat oil in another pan, saute onions tomato and curry leaves for 5 minutes.
STEP 3 
Add the prawns and the ground spice blend made earlier and continue to cook for another 5 minutes.
STEP 4 
Add water and cover and cook until the prawns look done. Serve with plain boiled rice.
Cooking Tips and Notes For This Recipe
1.Do not roast the whole spices for too long, turn it off as soon as you see the colour of the seeds change to a darker shade. 
2. You can use shrimp to make this spicy shrimp dish instead of prawns.
3. Prawns tend to become tough if cooked for long. Read this Mediterranean Prawn recipe where I share tips to make perfectly cooked prawns. 
4. Cook the tomatoes till it becomes pulpy, it gives the dish a lovely tangy taste.
5. Adjust the chillies according to your spice threshold. This is a hot spicy Indian prawn recipe so you do need a fair about of spices but you can easily reduce the amount. 
Can You Make Spicy Prawns Masala With Frozen Prawns
Yes, you can make this prawn dish with frozen prawns.
All you need to do is thaw the prawns and pat them dry before cooking.
What Does Masala Mean?
Masala is the Indian (Hindi) word for spices.
Whenever you see the word 'Masala' on a menu or a recipe you know if refers to spices.
Masala, as a reference to a cooking term as well. This means the process when you saute any Indian base sauce with spices along with onions, ginger, garlic and tomatoes.
This post shares the little known secret process of cooking a basic Indian sauce base that can be used for making many Indian recipes.
Recipe Card For Spicy Prawn Masala