What is Kasuri Methi or dried Fenugreek leaves
Most restaurant-style cooking add a little secret ingredient called Dried Fenugreek leaves that gives the sauce a unique taste. Read more to find out what it is and how to use fenugreek in dishes. 
Popularly used in the Indian subcontinent, Kasuri methi or dried fenugreek leaves is used to flavour many Indian dishes especially when it comes to North Indian curries.
It is classified as a herb and is perhaps one of those secret ingredients used in Indian restaurants to add an instant flavour boost to the dishes.
It is the leaves of the fenugreek plant ('methi' in hindi), sundried and stored for culinary use.
What Is Kasuri Methi
Fenugreek is a type of plant that grows wild in the 'Kasur' region of Punjab, (now part of Pakistan) hence the name 'Kasuri Methi'.
It can be largely classified as an Indian herb rather than a spice as the use of dried fenugreek leaves is similar to the uses of dried basil, rosemary, thyme etc.
The uses of Methi or fenugreek plant can be found in many forms and used in different ways for making a dish.
The different parts of fenugreek can be used in different ways in cooking.
Fresh methi leaves is a popular and healthy Indian leafy greens used to make Indian dishes such as methi alu, methi saag, methi parantha and many others.
Fenugreek seeds is a spice can be used whole or in powder form while dry fenugreek leaves are used as a herb.
Kasuri Methi in Other Languages
In this post I use Kasuri methi and dried fenugreek interchangeably.
Here are what this spice is called in different languages.
Dried Fenugreek in Hindi – Kasuri methi or kasoori methi
'Methi' is the Indian name for Fenugreek.
However, it is also good to know that 'methi' refers to fresh fenugreek leaves while 'Kasuri Methi' is always the dried fenugreek leaves.
Kasuri methi in Spanish – Secas fenogreco hojas
Kasuri Methi in German – Trokene bockshornklee blaetter
Kasuri Methi in French – Sec fenugrec feuilles
How Does Kasuri Methi Taste
Kasuri Methi has a strong pleasing aroma when you smell it.
I would not advocate putting dried fenugreek leaves directly in your mouth, as like all spices and herbs it does taste bitter.
It is one of those spices, that although enhances the taste of the dish, but is better not to taste it raw.
It is bitter to taste, but does not make the dish bitter.
Interestingly, fenugreek tastes like and is similar to fennel bulb or celery.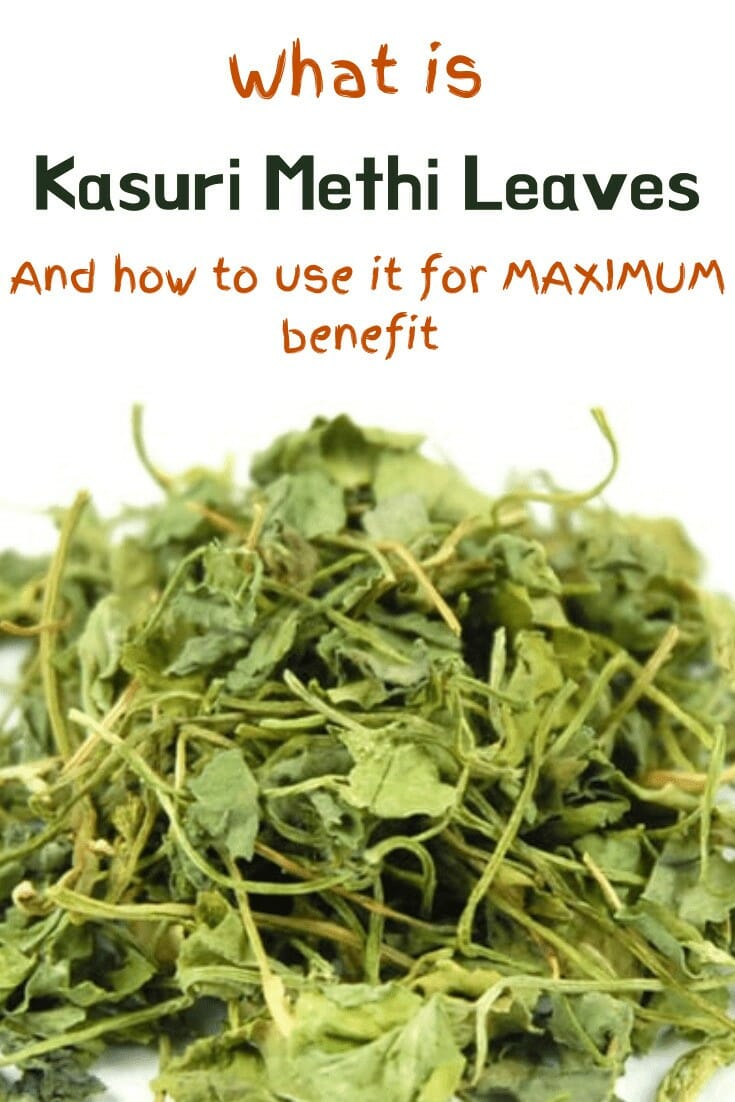 How To Use Kasuri Methi
As mentioned Kasuri methi can be classified as a dried herb. Cooking with fenugreek is very common in the Northern part of India.
The use of dried fenugreek leaves in cooking is similar to that of using basil, thyme, rosemary that is as a flavour and aroma enhancer.
The dried leaves of fenugreek release flavour when added to any dish.
It is added as a seasoning at the end of cooking.
You can choose to either dry roast dried fenugreek leaves, and slightly crush it before adding it to dishes or add the dried leaves directly.
Dry roasting for a minute or so enhances the flavour further.
Here are few tips on how to use kasuri methi for cooking.
Kasuri Methi can be used to make curries or dry dishes. Add right at the end of cooking as a seasoning.
It can also be added to dips and is especially good with yoghurt and in hummus.
Crush few dried fenugreek into any bread dough, it is also used to make Indian breads.
Add kasuri methi to stir fried or roast vegetables.
How To Dry Roast Kasuri Methi?
Few recipes may have fenugreek leave powder written as an ingredient.
Don't be puzzled by it. Its simply dried fenugreek leaves ground into powder.
All you need to do is dry roast it for 2-3 minutes stirring constantly remove it from heat and let it cool before crushing it to make powder.
Alternatively, you can also put it in the microwave and warm it for 30 seconds.
A word of caution if using a microwave. Since the leaves are very thin and delicate be careful not to overrun microwave time. It can burn or even catch fire.
What Food Combination Are Best with Kasuri Methi
Dried Fenugreek leaves are very versatile and combine with most foods. Some of the best combinations with dried fenugreek leaves are:
Best food pairings – legumes such as chickpeas, red kidney beans, yellow lentils; Starchy vegetables such as pumpkin, potatoes, sweet potatoes, carrots, yam; Meat like chicken, lamb, beef; Fish and seafood esp prawns, carp and crab.
Best spices pairings – cumin seeds, cumin powder, coriander powder, mustard seeds, garam masala powder,
Substitute for Dried Fenugreek Leaves
Kasuri methi has a very distinctive strong flavour which can be a bit hard to replicate.
Since it is not very easy to find fenugreek leaves in ordinary supermarkets you can substitute the flavour with these ideas:
For every teaspoon of dried fenugreek leaves use 3 tsp of fresh fenugreek leaves.
If you are unable to find fresh fenugreek leaves, use 2 parts finely chopped fresh celery leaves and 4 parts chopped fresh fennel bulb instead of a teaspoon of Kasuri methi.
Instead of combining celery and fennel, you can also use 2 tsp each of chopped celery or 3 tsp of fennel bulb but this is not the best substitute for dried fenugreek leaves.
Where to Buy Dried Fenugreek Leaves
It may be difficult to find this authentic Indian herb in normal super market.
If you happen to have a local Indian store nearby you are sure to find it on the shelves.
But the convenience of internet shopping has made it easier to buy.
The Spice house has a range of International spices and spice blends that can you can simply click to buy and will be delivered straight to your doorstep.
Their Kasuri methi leaves are fresh and aromatic.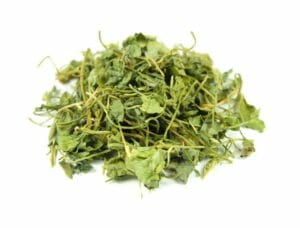 One of the most popular Indian brands what is available worldwide is this Kasuri Methi pack from MDH.
Dried Fenugreek Leaves Benefits
Helps in digestion – Kasuri methi is high in water-soluble fibres that help to ease constipation. This is why many natural digestive Ayurvedic medicines have dried fenugreek as one of the key ingredients.
Maintains a healthy level of cholesterol – Because of the high fibre content, it helps the body by preventing the access absorption of cholesterol by eliminating the fatty acids from the body.
Controls diabetes – Kasuri methi prevent an increase in glucose level by regulating the production of insulin in the body thus preventing type 2 diabetes.
Aids weight loss – The high fibre content also helps to keep those extra kilos off by aiding digestion and maintaining a good metabolism.
Healthy skin and hair – The antifungal and antibacterial properties of fenugreek, help to keep the facial skin pores germ-free and healthy. Applying a paste of Kasuri methi ground to a powder helps to get rid of skin blemishes. While the paste also helps to promote healthy hair and keep it dandruff free!
You can read the list of many other dried fenugreek leaves benefits here.
How to Store Kasuri Methi/Dried Fenugreek leaves
Being a strong herb, proper storage of Kasuri Methi is important.
If stored incorrectly you risk the volatile aroma to escape.
Always store dried fenugreek seeds in an airtight container away from direct light.
If you have bought the herb in a bag then make sure you close the bag tightly may be using a good quality food clip such as the one below.
It is good to use the herb within a year of it being opened.
To Conclude
If you fancy adding an authentic and exotic flavour to your Indian dishes, I could definitely recommend using dried fenugreek seeds as a seasoning.
It is so easy to use.
All you need to do is add a small handful, rub it between your palms (not a must, you can add a spoon directly too) and add it to the dish a minute or two before taking it off the heat.
Be careful when using Kasuri Methi though as it can be a bit overpowering.
Just a small amount that is 2 – 3 tsp should do the job for a serving made for 4 people.
Don't be afraid of experimenting with this truly ethnic Indian spice. If you love Indian food, you will like this for sure.
Thankful for every click to share:
Two types of seasoning that is considered the back bone of any culinary creation is...
Two types of seasoning that is considered the back bone of any culinary creation is...