Is Indian food healthy? Common misconceptions challenged!
Indian cuisine is one of the most popular yet misunderstood cuisine in the world! If you have build your opinion on Indian food based on restaurant and take away visits, then its time to unveil the truth and find for yourself whether Indian food is healthy or not?!
'Healthy', in my opinion is a subjective term ! What may work for you may not work for others.
Your body type or general health condition may need more fats and carbs to build energy while for others it could be proteins and low fat diet.
Some may have the opinion that Indian food is fattening, while the concept of Ayurvedic cooking is based on the nutritive value of Indian food and cooking method based on your body type. 
The question about 'How healthy is Indian food' is also subjective and largely dependable on the dishes you choose to eat, how you make it, the ingredients used and how often you eat. 
We will look at some of the common myths and thoughts that surrounds Indian cuisine so that you can figure for yourself is Indian food good not not?
Why Is Indian Food Considered Unhealthy
Our experience of any international cuisine is based on eating in restaurants, takeaways or a special occasion dinner!
We form our opinion on whether we like it or not on what is offered on the menu.
In reality though, a menu is just an open and shut snapshot of the most popular regional or cultural food.
It is impossible to offer the range of food each cuisine has.
Given the different food habits of India and the many varieties Indian cuisine is a food Mecca.  
There is no other cuisine in the world that has the variety and diverse food cultures within a country.
What we get at restaurants is a minuscule dot!
Based on the oily, rich, spicy dishes served we are quick to judge that Indian food is unhealthy. 
I will not oppose the thought completely,
However, that is not the factual truth as there are many healthy Indian options available. 
Food offered during special occasions and at restaurants are specially made to entice and satisfy our occasional craving for popular, not necessarily healthy eats.
So if your definition of healthy is based on calories and carbs, then your corner Indian take away is not going to be your friend.
Below are some points that distinguishes whether Indian food is healthy or unhealthy:
Food cooked in restaurant or for special occasion use more oil for the base sauce or gravy to cook properly and quickly.
Any type of fat , oil, butter, ghee adds extra taste and flavour to the dish. ( fries, butter sauce, donuts taste amazing for a reason)
Food cooked in excess oil or for longer time looses its nutritional value.
The popular side dish for Indian main is rice, naan, parantha and/or roti. While rice, oil or butter smeared naan are carbs heavy, roti is a wholemeal bread which has considerably less carbs.
Excess use of spices and chilli makes the dish rich and may lead to digestion problems.
The use of sugar, evaporated or whole-fat dairy products like cream adds to calorie intake.
Deep fried snacks such as samosas, bhajias, poppadoms and other popular Indian snacks does more good to your soul than waist!
So there you are, the main reasons why the common question 'Is Indian Food Healthy?' is rightfully asked.
Common Misconceptions Busted 
Eating a full meal at an Indian restaurant or on a special occasion you are likely put on 1000 calories or even more, depending on what you eat and how it is prepared.
Assumptions based of typical Indian food characteristics makes us question 'how healthy is Indian food?' . My attempt through this post is to rephrase is and answer 'why Indian food is healthy' if cooked the right way. 
Misconception 1 – Indian food is oily and fatty
There is diversity in food habits in India that is dependable on personal and regional cooking.
Largely though, the amount of oil used for cooking a meal at home is kept to a minimum.
Home cooked Indian food may use anything from 2 teaspoon to 6 tablespoon of oil.
There are also different types of healthy oils used for cooking Indian food to choose from.
You can use cold pressed mustard oil, coconut oil or groundnut oil.
It is upto you as to how much fat and what type of fat to use for making  a dish.
Cooking with less oil is a controlled cooking process which is followed by most home cooks.
So the amount of oil used in Indian food is variable. 
Misconception 2 – Indian food is spicy and rich
A typical Indian dish will include a minimum of 2 to upto 20 types of spices, depending on the Indian dish. 
The amount and type of spices used vary regionally as well as per household taste.
Indian home-cooks creatively enhance flavours  by using one or two sometimes a max of 5 spices in a dish.
By combining different proportions of the most popular and essential Indian spices you can easily cook many different types of Indian dishes which are simple and easy to make.
For example this Indian beans and coconut dish can be made with just 5 ingredients, while you only need 7 ingredients to cook a very basic homemade chicken curry.
Use of spices and quantities is dietary and taste dependent. This is a lesser known fact about Indian food. 
Misconception 3 – Indian food is hot 
Hotness in food again a very relative and personal preference.
The amount of chillies fresh or in any form completely depends on your heat tolerance.
Traditionally, some regional cuisine in India use larger quantities of chillies in their dishes, however it is not so throughout the sub continent.
Fresh chillies is a preferred ingredient for it's many health benefits as compared to red chilli powder.
Using chillies is a personal choice, you can omit it completely or reduce the amount as per your taste.
Misconception 4 – Indian Food is heavy and not healthy if eaten daily
It may have become slightly clear that the use of spices, fat and chillies in cooking Indian food is largely preferential and regional.
Traditional Indian food is based on the concept of Ayurveda. 
This nutritional value of Indian foods means that a meal should have a balance of 5 main tastes contributed by different cooking ingredients. These tastes are sweet, sour, hot, pungent and bitter.
A typical Indian meal will include:
raw ingredients such as vegetables, milk product, grains
proteins like egg, fish, meat, pulses and legumes,
spices, herbs and
carbs and fat
Each of these ingredients contribute towards a balanced diet.
Spices and herbs are not just seasonings. They are  know to have antioxidant and anti-microbial properties that helps inhibit the growth of microorganisms.
Majority of raw ingredients used in a typical Indian household is seasonal, fresh produce , varied in colours and textures, a great source of multitude of nutrients.
The use of dairy products such as yoghurt, milk and cheese are rich in calcium.
Grains, provide fibre for maintaining a good gut health.
A well thought and home cooked Indian meal gives you all the  different elements required for a healthy balanced diet.
Misconception 5 – Eating Indian food is not the best while on a  diet or for loosing weight
You may not be aware that Indian cuisine involves the use of many types of grains and vegetables.
It is not all rice, plain flour, over cooked vegetables and oil.
Some of the popular grains used as an alternative to rice are different types of millets, amaranth, buckwheat, barley, maize.
Spices on the other hand aid metabolism which means it assists in weight loss.
Apart from regional and personal eating habits, Indian food is also governed by religious factors.
There are days when Indians follow a strict diet regime incorporating only fruits, vegetables and whole grains very conservatively cooked.
There is no dearth of low calorie Indian food, fat free Indian meal options to chose from.
This multigrain pulao or oil-free slow cooked rogan josh is just an idea. 
You do not need to be on a bland, plain diet to loose weight.
You can still eat delicious healthier Indian dishes when on a diet. 
How To Cook Healthy Indian Dishes
Now the question is where do  you find the alternative healthy options of popular Indian dishes?
I have been blogging and teaching Indian cooking for past 6 years.
Given the years of experience in both writing and giving live online classes with attendees to follow along, I know there is a difference in cooking styles depending on how a recipe is followed.
It is akin to having a tutor to guide you through the process and show you what to do and correct you when you go wrong as opposed to reading the material and taking the exam on your own.
Cook along live Indian cooking class is like cooking with an Indian friend in your kitchen and treating your family and friends to a home cooked healthy delicious Indian meal.
Look at us in action on an online class below:

Its is a joy to see everyone replicate the same dishes in their kitchens and enjoy the process of social cooking and learning!
If you fancy joining a cook along class or arrange one for a specific time and learn your favorite Indian dish then all you need to do is complete the form below and send me a message.
You can join the class from anywhere in the world all you need is a device to log in and a microphone to listen!!
Internet is a great resource for finding healthy Indian recipes written by some good Indian food bloggers.
Some of my favourite bloggers are
Manjula's Kitchen – Simple homemade vegetarian Indian food recipes with videos to follow.
Vegan Richa– As the name suggests yummy tasty vegan Indian dishes.
Indian Simmer – A delectable collection of veg and non-veg Indian delicacies.
Final Thoughts About Indian Food 
The general rule of thumb for a typical healthy diet is food with a good balance of nutrients, vitamins, proteins, carbs and other scientific terms that I do not know of! But I think you get the idea.
So, in terms of whether a particular cuisine is healthy or not will largely depend on what, how much and how often you eat the type of food.
A typical homemade Indian meal will include different types of dishes. Depending on your diet it could be:
A veg or non veg main such as paneer or veg korma or curry 
A legume based dish such as a daal 
A side of rice and/or wholemeal bread such as roti
A simple salad of raw onions, tomato and cucumber called kuchumber
Yoghurt such as raita
The variety of dishes made (Cooking Indian food is not complicated either) provides the right balance of nutrients and vitamins.
Needless to say, the health factor of any food depends on how and what you are cooking.
This means the type and amount of fat used,  use of other ingredients i.e. vegetables, grains, proteins etc, the cooking process applied ie, fried, steamed, boiled, sauteed etc.; all play a vital role in defining 'healthy food'.
One can make it rich and spicy or be more guarded with ingredients. It is your choice.
Indian food is hugely diverse and varied so to branch it into the category of 'unhealthy cuisine' is unfair and unjustified.
The classification of Indian cuisine should not be based on mainstream or popular Indian food.
There are a variety of dishes, use of spices, cooking styles and ingredients that make Indian food one of the most wholesome and balanced meal.
Enjoy your weekend takeaways but remember what you eat is not just rich and spicy…. there are alternatives that are yummy and healthy!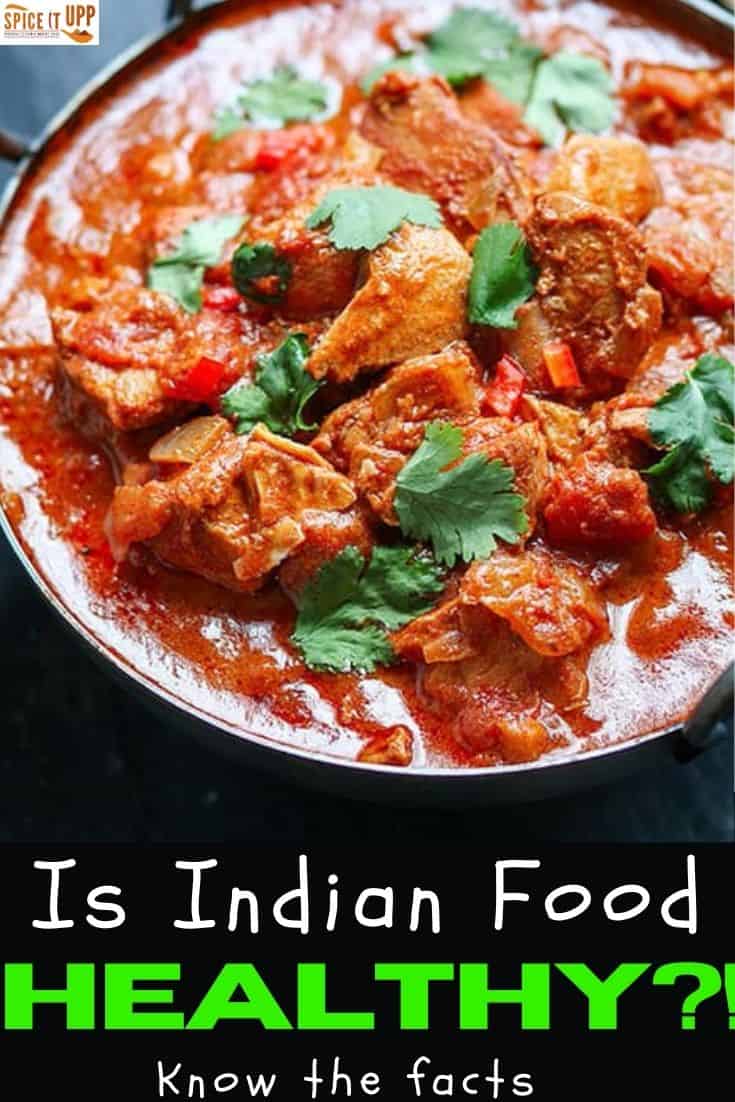 [contact-form-7 id="10710″ title="Register for Class"]
Thankful for every click to share:
Two of the staple spices mainly in the Southern Indian and Sri-lankan cuisines you will...
Two of the staple spices mainly in the Southern Indian and Sri-lankan cuisines you will...