Since ages Indians have been drinking kadha for cough and colds.
It is a spice tea based on the principles of Ayurveda that uses winter spices & herbs to combat the annoying symptoms of sore throat, runny nose associated with coughs and cold.
It is a very common drink in many Indian households and is considered as one of the best natural remedies for cold.
Ingredients For Making Kadha Drink
As with most recipes, each kadha recipe differs.
A traditional kadha recipe will use the Indian Holy Basil, known as Tulsi, but since it is not easy to find basil outside of India this alternative recipe works just as well.
I like to make this kadha drink for my family and my daughters love to drink it.
It uses simple whole spices that you can buy everywhere if you do not have them already.
MAIN INGREDIENTS
⇒ Water – 4 cups
⇒ Honey – 2 tsp
⇒ Fresh Ginger – 1 inch, cut into circles or smashed
SPICES USED
⇒ Cinnamon – 1-inch stick
⇒ Black peppercorns – 10
⇒ Cloves – 8
OPTIONAL INGREDIENTS
⇒ Holy basil leaves – 4-6
Kadha Recipe For Cold Step By Step Method
Method
STEP 1
Heat 4 cups of water in a pan.
STEP 2
Crush or slightly pound the spices in a mortar or pestle, add them to the water and bring it to boil.
Once the water comes to a boil lower the heat and continue to boil for another 10 -15 minutes until the water is reduced to half.
STEP 3
Remove from heat and add a teaspoon of honey before serving.
Cooking Tips and FAQ's
Avoid crushing the spices if making for my children as it can get too sharp to taste
You can add a combination of spices listed above under the optional ingredients to make Kadha for cough and cold.
Always add honey at the end after the water is boiled and before serving.
Why should you drink kadha?
Drinking a cup or two of warm kadha everyday before bedtime or even during the day helps to build your immunity system and protect your body against seasonal infections.
This Indian Kadha for cough recipe can be made easily at home with some of the winter spices listed in this post.
Are Holy Basil and normal Basil same?
No, the Indian holy basil is different to the basil leaves used in western foods. You cannot substitute one for the other as they have completely different tastes.
What is a good substitute for Holy Basil?
Since kadha this recipe is an Ayurvedic kadha for cough and cold, the best substitute for holy basil with similar medicinal properties to holy basil is sage. You can use fresh sage leaves as a substitute for holy basic in a Kadha recipe.
Where to buy Spices online?
Not sure if you can get all the spices listed in the recipe.
Buying all kinds of fresh spices cant get easier than buying them through online store at The Spice House and get them delivered to you directly.
For
Click here to discover the world of flavors at TheSpiceHouse.com.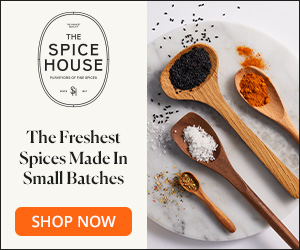 Join an Online Indian Cooking Class
Would you like to learn the basics of using spices that make Indian cooking easy and lots of fun. Register for a fully interactive online cooking session and cook along with me to make and Indian meal from scratch.