15 Best Seasonings For Vegetables With Infographic And Cooking Tips
15 Best Seasonings For Vegetables With Infographic And Cooking Tips
Wondering how to add flavour to vegetables? You are at the right place. Here is a list some of the best seasonings for vegetables to make different types of dishes effortlessly. Make this spice list your go to guide and spice UPP your veges. 
Eating vegetables need not be boring and bland! Adding any of these listed seasonings for vegetables will transform the taste in just few sprinkles and make you and even a fussy eater want to eat them more !
With the dietary habits becoming vegetarian and vegan based, it has become even more important to find simple easy ways to add flavour to vegetables.
Seasoning vegetables with spices and herbs makes them more exciting and palatable. Not only do they enhance the taste of something as boring as a boiled white potatoes and the less popular Brussels sprouts but cooking with spices have many health benefits.
In this post you will find a list of best herbs and spices for vegetables to make different types of veges, cooking tips on how to season vegetables for maximum flavour and easy recipes to try.
How To Flavour Veges Correctly
We know that vegetables are good for us, but overcooking or frying to make them more palatable leads to loss of healthy nutrients.
Besides, getting your kids to eat bowls of greens, and shades of yellows and oranges without some of them landing on the floor is another story.
There are different types of seasoning for vegetables that can make boring, mundane or boiled vegetables a treat to eat.
Although adding different seasoning to vegetables improves the flavours, it is important to know how to cook your vegetables right to make them more tasty.
One of the first step for cooking good vegetables is to try and retain the natural flavours. Using the right technique for cooking vegetables correctly will help achieve that.
Best Seasonings For Vegetables List
Apart from the way you cook your vegetables, the knowledge of what to season veggies with further enhances the taste and lets you experiment with the best seasonings for veggies and make different dishes.
The basic two seasonings that we use for flavour are salt and pepper.
But there are different types of spices and herbs for vegetables that can be used to make them more exciting and make different styles of dishes.
I have broken down the seasoning list into some of the good spices for vegetables that you can use to make vegetable side dishes to go with roasts or any main.
With the knowledge of what spices go well with vegetables you will be on our way to create your vegetable masterpieces.
Best seasoning for steamed or boiled vegetables
Boiled or steamed vegetables do not need to be boring and bland. Adding spices and herbs in one of the best way to season vegetables.
Both these methods especially steaming is considered an healthy cooking option to retain the nutrients and natural flavours of the vegetables.
An easy way to boost the sleepy veges without any additional effort from your side is to add a handful of spices or herbs for steamed vegetables.
Few of my favourite herbs for vegetables that can be added are:
Rosemary
A piney flavoured herb with sweet, savory, and aromatic undertone. Just a little goes a long way
How to add rosemary to veges
Add dried or a few sprigs of fresh rosemary directly to boiling water or the steamer and cook along with the veges.
2. Thyme
Earthy, savory with a faint minty flavour, thyme both fresh and dried adds a lovely aromatic flavour to the vegetables.
How to add to thyme to veges
Use both dried and fresh thyme leaves the same way you would use rosemary, directly with the vegetables.
3. Mint, Coriander, Parsley
These fresh herbs are my all time favourites and instant flavour enhancers. Add any or a combination of these best herbs for vegetables to make herby vegetables.
How to add to them to veges
Finely chop the herbs or tear them into small pieces and add them to the boiled vegetables with some butter or olive oil.
4. Mixed Italian Herb
I absolutely swear my keeping a small jar of Italian mixed herbs. It is a mix of oregano, basil and thyme and many other aromatic herbs. It is one of my must have seasoning to make faster flavouful meals effortlessly.
How to add Italian mixed herb to veges
There are two ways to use Italian mixed herb seasoning with boiled or steamed veges.
One you can add a teaspoon directly to the pot or steamer while the veges are boiling or add a teaspoon with olive oil and dizzle over the cooked veges.
BOILED/STEAMED VEGETABLES RECIPES TO TRY
Best seasoning for grilled vegetables
Grilled vegetables are when vegetables are placed directly under heat that is either on top of a flame or surrounded by heat.
Grilling adds a natural smokiness to the vegetables which already makes them taste different.
There are different ways to grilling vegetables. Either using an oven, a BBQ grill or even a griddle pan like the one below.
Grilling cooking method refers to direct heat being applied to the ingredient.
This means that you need to be careful about the type of seasoning used for grilled vegetables as they have a tendency to burn and make the vegetables bitter.
Here are some of the best seasoning for grilled vegetables:
Cajun Spice Seasoning
Not to spicy but flavourful, cajun spice seasoning brings out the yumminess to any dish it is added to. It also makes a good seasoning for mixed vegetables.
A mix of paprika, cayenne, onion powder, garlic powder and other spices makes this seasoning extremely versatile.
How to add Cajun seasoning to veges
Mix cajun spices seasoning with olive oil or any oil of your choice along with salt. Marinade the vegetables in the flavoured oil and grill.
2. Indian Tandoori Spice
There are not many who do not enjoy the taste of an Indian Tandoor.
Spicy and slightly fiery a tandoori spice rub is the mother of all grill seasoning and makes great spicy vegetables.
How to add Tandoori spice to veges
The best way to get maximum flavour out of the this spice seasoning is to add generous spoonfuls to thick yoghurt and marinade chunky cut vegetables for at least 30 minutes before grilling.
3. Montreal Steak Spice
The iconic BBQ blend for any griller.
Popularly used for meats, but there is nothing stopping you from using this seasoning for grilled vegetables.
Robust flavours of garlic, pepper, coriander this seasoning will make you look at vegetables in a different light.
How to add Montreal steak spice to veges
Generously sprinkle this seasoning on top of the vegetables, along with salt and oil, rub in well and grill as normal.
GRILLED VEGETABLES RECIPES TO TRY
Best seasoning for roasted vegetables
Vegetables like carrots, peppers, cauliflower, eggplant, zucchini, sweet potatoes, beet retain more nutrients and actually taste better when roasted.
Roasting is when you cook vegetables in the oven on a temp of around 200- 300 degrees for 20 -30 minutes.
When cooked using this method the natural sweetness of the veges is released and make them tastier.
You can further enhance the taste by adding good vegetable seasoning:
Taco and Fajita Seasoning
These two Mexican seasoning are a Mecca for everything flavourful.
If there is any dry or gravy based dish, adding taco seasoning gives it a depth of flavour.
Made with a mix of mild chillies, garlic, onion, dried tomato these two gems are flavour saviours.
How to add taco and fajita seasoning to vegetables
To roast vegetables add a few teaspoon of taco or fajita seasoning to the vegetables with salt and oil of your choice. Line up and roast.
2. Jamaican Jerk Seasoning
If you thought that jerk seasoning can only be used to make jerk chicken then its time to change that thought.
The aromatic and flavourful combination of all spice, chilli and a hint of brown sugar is one of the best seasoning for roasted vegetables and just about anything.
How to add Jamaican Jerk seasoning to vegetables
I suggest to marinade vegetables in jerk seasoning and oil before roasting.
This gives time for the vegetables to absorb the woody spiciness of allspice and highlight the natural sweetness of the vegetables.
3. Everything Bagel
One can easily change the name of this spice blend to 'Everything seasoning' .
Crunchy and nutty you can use this seasoning as a topping for more than just bagels.
If you haven't tried adding poppy and sesame seeds to vegetables before I strongly suggest you to try that. It is a game changer.
How to use Everything Bagel to vegetables
It can't be easier to add everything bagel to roasted veges. It is as easy as adding salt.
Roast the vegetables with oil as you normally would. Once they are out of the oven sprinkle and mix everything bagel seasoning and serve immediately.
Now that's what I call instant flavour.
ROASTED VEGETABLE RECIPES TO TRY
Roasted peri peri sweet potatoes wedges
Roasted vegetables with everything seasoning
Best seasoning for stir-fried vegetables
Stir frying method of cooking vegetables requires more personal attention. It is one of the best way to season mixed vegetables.
You have to stand and be on guard while stirring the vegetables.
Time wise stir frying vegetables can actually take less time depending on the type of vegetables used.
Some of the best vegetables to make a stir fry side with are zucchini, mushroom, green beans, sugar snaps beans, carrots, peas, peppers to name a few .
Below are my recommended herbs and spices for stir fry veges.
1. Fine Herbs
Bring the aristocratic French flair into your repertoire.
A combination of aromatic herbs like tarragon, chives, chervil will make your main envy the vegetable side.
How to add Fines Herbs to vegetables
To bring the best out of both the seasoning and the vegetables, I would recommend stir-fying vegetables in butter and adding the herbs while frying.
2. Panch Phoron
Panch phoron may be a bit lesser known spice blend. All it is, is a blend of 5 whole spices like mustard seeds, fennel seeds, cumin seeds, fenugreek seeds and nigella seeds.
As you can see from the mix of spices that it has bites of all flavours in one teaspoon.
The colourful blend of spices give the vegetables an interesting texture and flavour.
How to add Panch Phoron to vegetables
Add one to two teaspoon of panch phoron to warm oil for 2 cups of chopped vegetables. Let the spices splutter in warm oil for few seconds before adding raw vegetables. Stir fry as you normally would.
3. Curry Powder
When it comes to spices for vegetables, curry powder steals the show. It is the classic South Asian taste available for everyone to enjoy.
A mix of traditional spices such as cumin, coriander, turmeric, chilli powder this spice blend has become truly global.
How to add Curry powder to vegetables
The best way to use curry powder when stir frying vegetables is to add it at the beginning of the cooking process.
The earlier you add the powder, gives the chance to cook out some of the raw smell of the spices.
4. Chinese Five Spice
Another taste of Asia. Chinese five spice mix unites the five flavors: sweet, sour, bitter, salty, and savory making it a perfect veg seasoning with a a palatable balance of taste.
A versatile spice that can be used on anything from meats to vegetables and for making both sweet and savoury dishes.
Just a little dash is enough to brighten the flavours.
How to add Chinese five seasoning to vegetables
Chinese five seasoning use strong flavourful spices. It is best not to go overboard with the amount when cooking.
Add 1/2 to 1 teaspoon of the spice blend while frying the vegetables.
STIR FRY RECIPES TO TRY
How To Season Vegetables
Depending on the type of cooking method you are using i.e steam, boil, stir-fry, grill or bake and the type of seasoning there may be slight variation on when to add seasoning to vegetables.
Here are cooking tips on how to season your vegetables to bring the best of flavours.
Add generous amount of salt to water while steaming or boiling vegetables. This helps the vegetables absorb salt and retain flavour. You may not need to add additional salt while serving.
It is best to add dry herb based seasoning around the middle of cooking the vegetables.
Fresh herbs such as parsley, cilantro/coriander leaves, basil are best added at the end of cooking.
Raw ground spice seasoning such as curry powder, Chinese five spice, taco seasoning are better added at the beginning.
Add whole spices to warm oil at the beginning to flavour the fat before adding the vegetables
If you choose to grill or roast vegetables you have the option to marinade them with the seasoning first.
Pre-flavoured seasonings such as flavoured salt, flavoured oil, should be added at the end.
Nut based or seasonings with texture should be added in the end to retain the crunch.
Learn how to season like a pro and consistently make great tasting food with this handy cooking guide on how to season food for only $6.99
How To Make Frozen Vegetables Taste Better
Frozen vegetables have a lot of water content. Grilling or baking is not the best cooking option as it will loose moisture and taste during the cooking process.
I recommend, stir frying, steaming or boiling frozen vegetables with salt to bring back life into them .
You can use the seasonings listed above to flavour frozen vegetables.
Where To Buy Spices From?
For US Residents
Shop a range of fresh spice, herbs and blends delivered straight to your doorstep from the Spice House.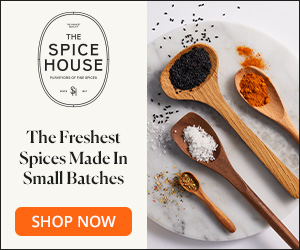 For Europe Residents
For those living in Europe Gewuerzland has the largest selection of fresh spices and herbs that can be ordered online.
TO CONCLUDE
I hope the list of spices and herbs for vegetables gives you ideas on how to spice up veggies with minimum effort.
We know that eating vegetables is a must for a healthy and well balanced diet.
There is a wide variety of options of vegetables and seasoning that can be matched and create some amazing vegetable side dishes.
Being creative with what you have in your spice drawer and using a particular cooking method, you can turn those need to have veges into must have them.
Spices, seasonings, herbs, flavoured fat, nuts and souring agents all can change the vege game.
All you need to do is just start adding them.
Thankful for every click to share: