What is Ajwain (Carom Seeds) – Health Benefits and Uses
What is Ajwain (Carom Seeds) – Health Benefits and Uses
Ever wondered what is Carom seed (ajwain) listed in some of the Indian dishes . List post answers all your questions to how to use ajwain seeds in cooking and the many health benefits.  
Big in antioxidants and medicinal value, ajwain seeds are the unassuming seeds that is highly undervalued when it comes to use in everyday cooking. But what is carom seeds?
This post will share tips on how to use ajwain for cooking, health benefits of carom seeds with an infographic to save.
What is Carom Seed?
Carom seeds or ajwain seeds as it is called in Hindi is a spice that is indigenous to Indian cuisine.
It looks similar to cumin seeds with a strong pungent with a herby taste and smell.
Popularly used in many Indian vegetarian dishes, especially for making tadkas or added to fried food items this spice somehow has not yet gained the 'superfood' tag as Turmeric, although both spices have similar if not the same medicinal benefits.
Rich in nutrients, vitamins, minerals and fibre, ajwain has been used in Ayurveda to help cure and ward off many diseases.
Right from the seeds, to oil and other carom seeds extracts, this spice has health benefits, something that you should not ignore.
Even though ajwain spice may be new to you, the use of carom seeds in cooking is fairly straightforward.
Other Names Of Carom Seeds
Below are the names used to refer carom seeds in different languages.
English – Carom seeds, Bishop's weed
Indian – Ajwain, Ajovain (Carom Seeds In Hindi )
German – Ajowan Samen
French – Ajowan , Carambole graines
Spanish – Semillas de carambola
What Does Carom Seeds Taste Like?
There is a multitude of flavours and taste that goes on when you eat carom seeds.
Ajwain seeds taste similar to thyme with an underlying tone of oregano.
When you bite into raw carom seeds the first sensation that you will feel is of pungency and a sharp bitter sting.
Carom seeds have a close appearance to cumin or caraway seeds, but has a distinctive taste of its own not comparable to the other spices.
Although many Indians chew on raw ajwain to help in digestion and also as a mouth freshener, I would not recommend doing so if you are completely new to this super spice.
Uses Of Carom Seeds In Cooking
The complexity of the flavour of carom seeds makes it an interesting spice to add to curries as it gives the dish a unique taste.
The best way to use carom seeds is to briefly fry it in fat or even dry roast the seeds before adding to a dish.
In Indian cuisine, ajwain/carom seeds are added during the tadka or tempering process of cooking. Tadka means frying whole seeds in hot oil so that the oil incorporates the flavours of the spices.
If you wish to keep the sharp taste of the spice, then crush ajwain in a mortar and pestle or in between your palms and add it at the end of cooking.
Here are few uses of Ajwain seeds:
Add a teaspoon of carom seeds to vegetarian dishes such as stir fries, lentils and legumes.
When making deep fried items like tempura or pakoras, carom seeds helps to improve digestion and taste of the dish.
Add to breads for a thyme like flavour.
You can also add carom seeds to fruit, spice rubs and even soups.
Soak carom seeds in a glass of water and drink ajwain water at night to improve digestion and relive constipation.
Sprinkle a few on salads or to the dressing.
Make ajwain tea by boiling a teaspoon of carom seeds in water.
How Much Carom Seeds To Use?
Ajwain has a distinctive taste, it holds its own when added with other spices.
That is the reason why you should not be using too much of carom seeds in your dishes. It could overpower the other spices.
When preparing a serving of 4, the recommended amount of adding ajwain seeds is just a teaspoon.
What Are The Benefits Of Carom Seeds
Aids digestion – Carom seeds helps to improve the digestive efficiency of the gut. The active enzymes of ajwain seeds help to boost our digestive functions by releasing the gastric juices.
These digestive juices in Carom seeds prevent cramping and bloating of the stomach and to an extent helps eliminate constipation.
Helps in weight loss – The laxative nature of carom seeds speeds up the digestive process.
Ajwain has the ability to pull out the good nutrients and prevent the storage of excess fat. It also helps to increase the body's metabolism thus assisting in weight loss.
Relieves headache, ear and toothache – The presence of thymol compounds in carom seeds makes it a good pain reliever. Crushed ajwain seeds can be applied to temples to help with migraines and headaches.
Applying few drops of carom seeds oil to the outer ear helps with earache while gargling carom seeds soaked in lukewarm water 3 – 4 times a day helps in relieving toothache.
Prevents early greying of hair– Applying carom seeds paste or drinking a glass of water-soaked in ajwain seeds, curry leaves and dry grapes once daily help in preventing the premature greying of hair and also keep your scalp healthy.
Boosts respiratory health and relieve from Asthmatic symptoms – Carom seeds have anti-inflammatory and anti-bacterial compounds that help to give relief from sore throat and other respiratory infections.
Chewing ajwain seeds with lukewarm water helps to clear nose blockage by dislodging mucus.
Prevents acne and pimples – Ajwain seeds can also help to reduce skin irritation problems such as acne and pimples due to the natural antioxidant and anti-inflammatory properties.
Applying a paste of carom seeds to the skin for 10-15 minutes helps in clearing the skin of dirt and grime while also lightening acne scars.
The infographic below lists some of the benefits of carom seeds and how to use them to treat health disorders.
Side Effects Of Carom Seeds
Although carom seeds have many health benefits, excessive consumption can lead to certain problems.
It is always a good idea to be aware than be sorry and prevent any side effects.
Consuming carom seeds in excess may lead to a few of the symptoms below:
Increase in stomach acidity
Eating too many ajwain seeds can lead to excessive production of gas in the stomach leading to acidity and reflux. Best to limit the intake to 2-3 tsp a day.
May induce dizziness and Nausea
The presence of thymol in carom seeds can cause dizziness and nausea.
Liver problems
People suffering from liver conditions such as hepatitis, cirrhosis or any other major health issues should always consult a doctor before they start taking carom seeds. The presence of Thymol can cause liver damage.
Burning Sensation in the mouth
The powerful active ingredients present in ajwain seeds can cause inflammation in the mouth leading to a burning sensation and also cause mouth ulcers.
Best Food And Spice Combination With Carom Seeds
Carom seeds are used in many savoury dishes and go well with most whole grains, especially legumes, pulses and flours.
Foods that go well with carom seeds are:
Best food pairing: potatoes, cauliflower, onions, chicken, curry, fish, ginger, lentils, peas, soups, stews, tomatoes, orange and red vegetables
Best spice pairing: cumin seeds, mustard seeds, bay leaves, red chilli powder, cinnamon, cloves, coriander seeds, dry chillies, turmeric
Spice Substitute For Carom Seeds
Because carom seeds or ajwain have underlining tastes that are similar to many different spices and herbs, its very easy to find a taste and flavour substitute for carom seeds.
Replacing ajwain with a suitable substitute does not mean that the medicinal benefits of carom seeds can also be replaced.
Ajwain has the presence of strong and powerful nutrients and compounds that is hard to find in any other spice.
The recommended spice substitute for ajwain seeds are:
Option 1 – One of the best and easily available substitutes to use instead of ajwain seeds is dried thyme.
Carom seeds and thyme both have thymol as the active ingredient and hence the best substitute.
Option 2 – Oregano too is a good substitute. Since there are different types of regional oregano that we can buy, Mediterranean oregano comes closest to replicating the taste of carom seed.
You may also like to read about the Best Spice Substitutes for Hard to Find Indian Spices
How To Buy Best Carom Seeds
Since carom seeds is the almost identical triplet to cumin seeds and caraway seeds, make sure you read the label well!! ( just to make sure you picked the right seed)
Ensure that the seeds are dark brown in colour without and lump.
Since the aroma is strong you may be able to smell the seeds from the outside depending on the type of packaging it comes in.
It may be difficult to find carom seeds in your regular grocery store or supermarket.
However, you can buy them easily from any Indian grocery, a health food store or an online store.
You can choose to buy them in a jar, a tin or a pack.
If buying loose, make sure that you store them correctly in an air tight container.
Where To Buy Carom Seeds
For US citizens I recommend buying Carom Seeds/Ajwain The Spice House.
It is a one stop online store for all your spice needs.
How To Store Carom Seeds
As with all spices store Carom seeds in an opaque or glass airtight container away from direct light or heat.
Being a strong aromatic spice, ensure that the lid is tightly closed to retain the freshness of the spice.
If stored well, carom seeds will keep its character and flavour for almost a year.
Easy Recipes Made With Carom Seeds
Red lentils Daal with Spiced Tadka
Buy Spices Online
Avail the convenience to get a range of spices, special ingredients and regular grocery delivered straight to your door without any hassle.
UK and Rest of Europe Residents – British Corner Shop, the official partners of Waitrose UK with economic worldwide delivery

US Residents – The Spice Shop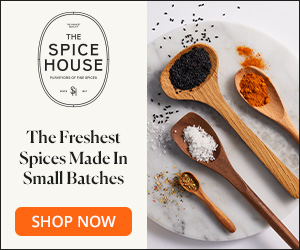 Recap
Being a nutrient rich, medicinal spice, I won't be surprised if the coming years will rate carom seeds in the 'superfood' category.
Carom seeds not only gives a dish a unique taste but also has many health benefits.
It is very easy to incorporate carom seeds in everyday food as the use and taste are similar to thyme.
Drinking water soaked in carom seeds can help improve digestion, reduce acidity, overact nausea and also relieve cold symptoms.
You can easily buy carom seeds online and my recommendation will be to give this spice a go if you are looking for a one teaspoon solution for adding flavour and health.
Are You Ready to Try Carom Seeds
I have tried my best to clarify what is carom seed and highlight the benefits.
Not sure if I have managed to convince you to try it.
Whatever your thoughts about the spice are, do leave a comment and share them here.
And as always if you think this article deserves more eyes then please do share by clicking the share and/or save buttons.
Thankful for every click to share: