There are many different lamb bhuna recipes that you will find when you google it.
This recipe is made with simple spices that do not require a visit to any Indian store to buy. You can easily find the spices online or in any supermarket.
But I have to admit, that this recipe does need some patience to make.
Not because it is complicated. It is because of the 'Bhuna' style or method of cooking.
Ingredients for Lamb Bhuna Recipe
You make this Indian lamb curry you will need the following ingredients:
FRESH AND PANTRY ITEMS
⇒1 kg Lamb or any meat –, thinly sliced into small pieces
⇒2, finely sliced onions
⇒2 tbsp ginger garlic paste
⇒6 tbsp Oil
⇒Salt to taste
⇒A handful of fresh coriander leaves (cilantro)
⇒2 green chillies
⇒3-4, chopped tomatoes
SPICES NEEDED
⇒1 tsp black peppercorn (Click here for uses and benefits)
⇒2-4 (depending on heat preference) whole red chilli
⇒2 tbsp cumin seeds (Click here for uses and benefits)
⇒2 tbsp coriander seeds (Click here for uses and benefits)
⇒1 ½ tsp ground cumin
⇒1 ½ tsp ground coriander (Click here for uses and benefits)
⇒2 tsp turmeric powder (Click here for uses and benefits)
OPTIONAL OR SUBSTITUTE INGREDIENTS
⇒Fenugreek seeds if you have them (Click here for substitute for fenugreek seeds)
⇒ Substitute for fenugreek leaves, use finely chopped fennel bulb or celery. (Click here to find out what are fenugreek leaves )
⇒ Red chilli powder (optional, if you prefer it hot) (Click here to read about Kashmiri chilli powder)
Step Wise Step Method With Images
Below is the step by step method on How to Make Lamb Bhuna at home.
STAGE 1 – Make the Bhuna spice blend 
STEP 1
Heat a pan, add the whole spices and dry roast until fragrant. This should take about 2-3 minutes.
STEP 2
Remove from heat, cool and dry into a coarse powder.
STAGE 2 – Start the Sauteeing process (Bhunoing)
STEP 3
Heat oil in a heavy-bottomed pan and add whole red chillies, fenugreek seeds and let in splutter for 3 secs.
Add 2 tablespoon of the lamb bhuna spice mix and saute for about 40 seconds
STEP 4
Now add the onions and saute for about 5 minutes or until translucent, followed by the lamb pieces.
Seal the juice of lamb on high flame and fry for 5 minutes
STEP 5
Add ginger-garlic paste to the lamb and continue to saute for 2 minutes.
STEP 4
Add the other powdered spices that is cumin powder, coriander powder, turmeric powder and chilli powder (optional).
STEP 5
Add 1/2 cup water and cover and cook until oil starts to appear from the sides.
At this point, it is the beginning of checking for the doneness of lamb. Add 1 cup of water again, (depending on how much water the lamb has released and how much more the lamb needs to cook) and salt and continue to cover and cook till ¾ done. The oil should appear to come out of the side of the meat.
STEP 6
 Add tomatoes and green chillies and cover and cook until the lamb is tender and the gravy thickens while you see a good layer of oil floating on the top and the side of the pan.
STEP 7
Check for the doneness of the meat and salt. If the lamb still needs to be cooked continue to add water, cover and cook until the meat becomes tender.
Once it reaches the end add another 2 tbsp of the freshly ground roasted spices, a handful of coriander leaves (reserving some to be used for garnish) and cover and cook for the last 5 minutes.
STEP 8
Garnish with fresh coriander leaves and serve hot with boiled rice or roti.
Lamb Bhuna Recipe Video
Here is a short video of the steps shared above.
Cooking Tips and FAQ's
Use lamb leg meat and cut into bite-size pieces for making lamb bhuna

Fenugreek seeds in the recipe is optional. Do take care not to burn them in hot oil as they tend to burn very fast and can make the gravy taste bitter.

Add 2 tbsp water from time to time to the dish if you see it catching at the bottom of the pan and stir well.

The amount of water added to the dish depends on how much water has come out of the lamb and how much more the lamb needs to be cooked. So use your judgement and add water accordingly.

Adding warm water is best to retain maximum flavour.

The amount of chilli powder you add is completely up to your personal and family preference. You can choose not to add any additional whole chillies or chilli powder apart from the one added to the spice blend.
What Is Lamb Bhuna and What Does 'Bhuna' mean?
Lamb Bhuna is an Indian lamb curry sauteed with spices and tomatoes on low heat.
Traditionally, this dish is called 'bhuna gosht' meaning sauteed meat or goat.
'Bhuna' is the Indian name for sauteing until brown.
So, what do I mean by sauteing until brown!!???
Does it mean cooking it until the different coloured ingredients all turn brown in colour aka, just before it starts to burn?!!
Well, its something like that, the trick is to prevent it from burning.
The way we do it is to play with the heat applied to the dish.
In a 'bhuna' cooking method, the first step is to flavour the oil with whole spices.
This usually follows with sealing the meat on high heat.
Then carry on with the cooking process adding the other ingredients one by one or all together so that the sauce ingredients cling to the meat pieces during cooking.
The combination of adding water, lowering heat, intermittent stirring until the aromatics and spices dry out and waiting for the oil to be released, followed by adding more water and repeating the process until the meat is cooked is bhuna cooking style.
This is where your patience is needed to wait for the water or moisture to dry out and repeatedly add more water and follow the same step.
It is like a game of snakes and ladders! You climb up only to be bitten by a snake, move down again and repeat the whole process until you make it home!!
It may sound all too complicated for you, but this recipe is the simplified version which makes it easier for you to cook Lamb Bhuna at home.
How Can I Make Lamb Bhuna Spice Blend Without The Whole Spices ?
Making a spice blend from scratch surely adds a depth of rustic flavour to the dish. However you do need to have the whole spices and a good spice grinder to grind it into powder.
If you do not have whole spices, use 1 tablespoon each of cumin powder, coriander powder, 1/2 tsp of black pepper powder and 1/2 tsp of red chilli powder to make the spice blend.
Why Is A Lamb Bhuna RecipeTime Consuming?
Although a relatively easy dish to make, cooking Lamb bhuna does require some patience. The reasons for this are:
The cooking method used :
The bhuna method is a slow sauteed way of cooking, meaning that it requires a decent time to follow the moisture to dry loop style cooking.
The type of meat used:
Red meats such as lamb, goat, pork and beef tend to take time to cook.
While chicken or prawn bhuna tend to cook faster so the time needed to cook is much less.
The quality of meat:
The cooking time of meat depends on the cut and type of meat used.
I have been teaching lamb bhuna to my students on a regular basis. However every class we make it, the cooking duration and the amount of water used vary each time.
There have been times where the meat has come out hard and chewy ( and left me pretty embarrassed) and other times in a melt on the bone texture.
This is due to the uncertainty of the age or cut of lamb used.
Some meat cuts tend to release a lot of water, not requiring additional moisture to be added, while others may need a considerable amount of water and waiting time to cook.
How Can I Cook Lamb Bhuna Faster
Do not let the time-intensive Lamb Bhuna put you off from cooking it at home!
As they say, there is a solution for everything and I have found a way.
It is not any breakthrough sous-vide type invention (although it may help)
The easiest way to reduce the cooking time by half is to pre-cook or post-cook the meat.
Ways to do this is by using one of the following gadgets:
Pressure cooker or Instant Pot
The functions and benefits of using a pressure cooker are many is detailed here so I will not repeat myself.
If you happen to have one you can choose to boil the meat in some water and throw in a mix of bay leaves, cinnamon sticks, cloves and/or cardamon for added flavour.
Pressure cook it for about 8-10 minutes on slow heat and let the steam release naturally.
Take the meat pieces out and follow the cooking method explained in the recipe.
As the meat is already cooked, you do not need to add much additional water that is normally required to cook the meat until tender.
This instantly reduces the time needed to brown the sauce until the meat gets cooked.
The other way of using a pressure cooker is at the end of the sauteing process.
Once you have browned and sauteed the meat, pressure cook it for 5 minutes on low and then dry out any excess water by continuing to cook it with the lid open.
This will also reduce the cooking time
Can I Make Lamb Bhuna In Slow Cooker
Yes, Slow cooker Lamb Bhuna recipe is equally good.
The method of making it in the slow cooker is even simpler.
Put all the ingredient together and
cook in on high for 6 hours.
Finish off by drying excess water and browning it in an open pan until oil separates from meat.
How To Make Bhuna In A Pan
You can also precook meat in a normal pan with the added whole spices recommended above.
This will require more water and also take longer to cook than a pressure cooker.
However, you will be guaranteed tender meat chunks that melt in your mouth.
This easy lamb bhuna recipe I share has been made in a normal pan.
Not everyone has a slow cooker or pressure cooker at home. If you follow the stepwise process of making Lamb Bhuna in a pan and make changes accordingly considering the tips shared above you will achieve good results.
Buy Ingredients To Make Lamb Bhuna online
Buy fresh spices easily online from The spice House . Discover the world of flavors at TheSpiceHouse.com.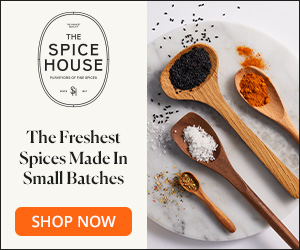 For UK & Europe residents, buy fresh spices and other ingredients online from Gewuersland, delivered straight to your door.

Shop for all your British favourites from The British Corner Shop